Exclusive
Inside Kris Jenner's House Of Horrors: Affairs, Fights & Disrespect — Why Bruce Left?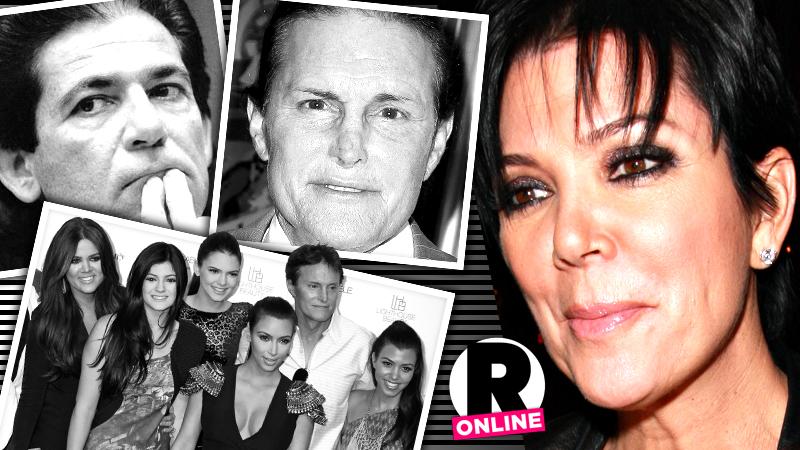 Kris and Bruce Jenner's 23-year marriage just went down in flames, but it's not the first time that she's torpedoed a marriage. The reality TV momager divorced first husband Robert Kardashian Sr. in 1991, and now, his ex-wife is speaking out for the first time about how Kris' alleged affairs and her children's shocking behavior made their home a house of horrors — and why Bruce was lucky to escape!
Article continues below advertisement
Jan Ashley married famed attorney Robert on Thanksgiving in 1999, but had the union annulled just 30 days later. And she says Kris and the Kardashian kids were largely to blame.
"Did the kids have anything to do with it? Of course, they did!" she said of her split from Robert. "All I know is he was upset all the time. Not with me, but with his kids and his ex wife."
"They were after him for money, money, money," she said. "I don't think he could handle them."
Ashley's first husband, producer John Ashley, who she calls "the love of her life," had recently passed away when she met O.J. Simpson's defense attorney in Beverly Hills.
"I was selling my house and he came through it and he saw my picture," she remembered. "He called one of my husband's actors Mike Connors to have him introduced to me."
Coincidentally, Robert rented a house across the street and their whirlwind courtship began.
Article continues below advertisement
"We dated for seven months," Jan said. "In Hawaii he asked me to marry him."
And from there set off an unconventional – and unforgettable – start to their life as husband and wife.
"We got married in Vail, Colorado. We actually got married and had our honeymoon on the same day!" Jan said. "And we went on a honeymoon with four kids! Me, him and the kids went with us... I was very surprised when we got there."
"I kept saying, 'Robert, do you see them? Oops, they're yours!'" she laughed. "He said, 'They're just going to run around with us for a while.'"
Much like the popular reality show, which Radar has uncovered is full of fakery, it wasn't long before Ashley realized her stepchildren and her husband's lifestyle was all just an act.
"I was introduced to his kids and they loved me and they'd talk to me," she said. "They were acting like they liked me. Acting is the main thing they've got going on. And I don't think they're happy. I think people in your life make you happy. People who act like they're happy aren't happy at all."
Article continues below advertisement
Even before they became one of the richest TV families in the world on Keeping Up with the Kardashians -- worth a reported $80 million – having the finer things in life was more about keeping up with the Joneses for the Kardashians, Ashley claims.
"They weren't rich, sorry. I know from Robert. Robert pretended he did have money too," she said. "They acted like a bunch of spoiled brats!"
"From their daddy, they wanted everything right then," she added. "He didn't have any money. He always pretended he had money. I'm the one who didn't care about money."
"The way I see it… how do you say this nicely? You have a father who's always acting like he's a big star and he's not, and four kids acting like they're big stars. Why do you think I asked Robert to sign a pre-nup?" Ashley revealed.
"They were kids that were brats," she insisted. "I never met kids like that. I don't know why they were so mean. But they were."
Ashley described what was supposed to be a festive Christmas that turned into a disaster. More specifically, it was an alleged incident with Kourtney Kardashian that marked the beginning of the end.
Article continues below advertisement
"I was sitting there preparing a very good dinner for all his people and I looked at one of his girls. I asked her, 'do you mind helping me?' she said. "The final straw was when I went into the living room and asked her Kourtney one thing, 'Please help me put plates out.' And she said, 'Jan, I'm too busy. Jan, go away, I'm busy.'
"And I have to say, Kourtney is such a b***h!" Ashley exclaimed. "I'm sorry, if you act like that, you're a b***h.
"So I called Robert, 'Tell him exactly what you said to me,' and she repeated it," Ashley continued. "Robert said, 'She's just a kid.' I said, 'No, she's not a kid! She should be helping me.' I told every single person and the kids to get out. They never came back."
Ashley confessed, however, that there were times Robert even felt the same about his oldest daughter.
"Robert came in one day and said, 'Jan, I'm sorry, I've got to tell you something… I'm sorry, Kourtney's a b***h!' He was out with her in the yard and she was yelling at him," she claimed.
Article continues below advertisement
Ashley went on to describe Kim and Rob Jr. as "good" kids, but she claims Khloe's adolescence was another story.
"Khloe, she dated everyone," Jan alleged. "With her dad, it was a major problem. He'd say to me, 'Jan, I've got to find Khloe.' He'd get up and we'd look around, and then, 'Oh my god, there's Khloe.' She wouldn't be in a good place."
Jan described most of the places they'd find the 30-year-old hanging out with the opposite sex as "on the wrong side of" things, and a "bad neighborhood."
"Her father would describe her as dating everybody," Ashley claimed. "He'd just say, "get in the car!"
But when it came to philandering, Ashley said his ex Kris was much worse.
"He talked about her cheating day in and day out," Ashley said. "He talked about how she was guilty of everything. I asked him, 'How is she guilty of everything?' He said, 'She's guilty because she went out with all these guys and I didn't know about it.'"
Article continues below advertisement
In her 2011 memoir, Kris Jenner…And All Things Kardashian, the 58-year-old momager revealed that she had cheated on then-husband Robert, naming the then-24-year-old lover as "Ryan," later revealed to be Todd Waterman. Radar only recently learned that Waterman, who appeared in an episode of Keeping Up with the Kardashians, was strong-armed by Kris into signing an agreement forbidding him from talking about their wild two-year affair.
For Ashley, all the family drama soon became too much too bear.
"I was married to him for a month," she said. "Thank god for that."
Ashley says she filed for an annulment, and despite Robert's statement in his court documents claiming that he didn't want any more children, she refutes that as a reason for their marriage meltdown, calling it "crazy."
"I had my tubes tied and he knew that. If I didn't want to have children with the love of my life, Johnny, I wouldn't with this guy," she insisted.
Article continues below advertisement
And after her often unpredictable encounters with the Kardashian kids, she was apprehensive.
"I'm afraid they'd turn out like Kris or Kourtney!" she quipped. "They'd turn out to be horrible."
So their days as a couple ended in 1999, with Robert later marrying his third and final wife Ellen Kardashian just before his death at age 59 from esophageal cancer in 2003.
"I went to my lawyer and he wasn't surprised. He said, 'What took you so long? I never thought this would last.' He asked, 'Why did you marry this guy?' said Ashley. "I don't know."
But she's tried to find a reason why she took the plunge.
"I just got out of a marriage and my husband had just passed away," Jan continued. "I was so young and upset about my husband who had just died. I kept thinking I could make it better with the kids and make them better people and it didn't turn out that way. I pictured myself with Robert and the kids."
But that doesn't mean she has fond memories.
"It took me about one day to get over it," she said, recalling her newly-single status after the annulment.
"I tore up all his photos," Ashley added. "And then threw them out."