Exclusive
'She Made Him Sign An Agreement' -- The TRUTH Behind How Kris Jenner Silenced Former Lover Todd Waterman & Why Bruce Jenner Never Confronted Him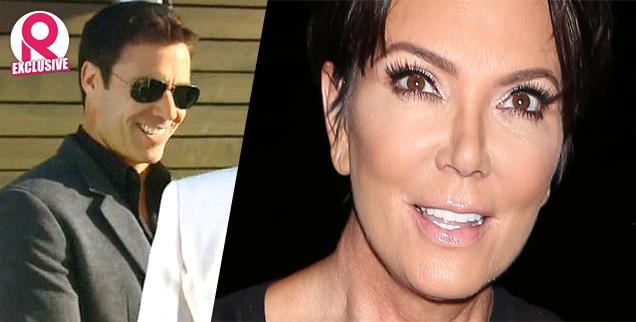 Kris Jenner has singlehandedly built the Kardashian juggernaut into an $80 million empire. But the matriarch wasn't about to let her former lover destroy her creation, and RadarOnline.com has learned exclusively what she did to make sure he never spoke of their nearly two-year tryst.
When the famous momager wrote her 2001 memoir, Kris Jenner...And All Things Kardashian, she identified her 24-year-old former lover as "Ryan," who Star magazine later uncovered as Todd Waterman, the Hollywood animator who broke up Jenner's first marriage to husband Robert Kardashian Sr. After Jenner spilled the secrets of their "wild crazy sex," Waterman decided to tell his side of their affair to several media outlets. But the 58-year-old wanted none of that, according to Waterman's mom, who spoke exclusively to RadarOnline.com about what happened behind the scenes when Jenner forced him to sign on the dotted line and shut his mouth.
Article continues below advertisement
Although Waterman objected to being silenced, in true Jenner form, she wasn't going to take no for an answer. "She made him sign an agreement that he would never talk about her family with anybody," his mother, Ilza Waterman said. Waterman's mom confirmed just how cutthroat Jenner can be. "They were at her office and she said, 'I would like you to sign this for me.' That's all she said.
"He asked her 'why?' And she said, 'Even my mother had to sign one.' I think she was joking," Waterman added. "He said, 'Why would I do that?' He told her, 'I'll sign it if you sign something not to talk about me and to not speak about us anymore.' He said he didn't want her using him in books or newspapers and magazines to build up her public persona." And her curt response was not surprising. "She said 'no.' He said she was getting upset. So he just said, 'If it makes you happy, I'll do it.'"
Reports even claimed Waterman was paid $15,000 to $20,000 to appear on Keeping Up with the Kardashians, but that never happened. "She never paid him for anything," Waterman revealed. "When people have a lot of money they never pay for the things that they do. They can always get away with it." That she did.
Jenner even continued to lead the public into thinking she just bumped into Waterman in the summer of 2012 while playing tennis. But it wasn't that coincidental. The Kardashians have been accused of creating fake scenes before, and this was no different. It was more of a set-up. "He told me she came in with cameras. He couldn't believe it. She had to have known he was there," Ilza remembered. And all the attention on Waterman's private life has taken a toll on her former lover. "He really didn't want this to happen. He didn't want to bring this up in the open like this," she said of her Emmy-nominated son.
Article continues below advertisement
"He never even looked at her reality show. Even when he was on it he didn't watch the show. Or read the magazines. But I kept copies of everything." In fact, Jenner wanted Waterman to film more episodes, but it was her now-estranged husband Bruce Jenner who refused. "They wanted Todd to film another show with her and Bruce put his foot down," said Ilza. "Todd said Bruce wasn't comfortable. But the TV manipulation that has haunted the world's most famous family since their hit show debuted in 2007, wasn't always a part of their lives. Ilza recalls Jenner as "honest" and "sweet" and always driven, even as she lived a double life.
"I didn't meet that horrible person that's written about. I met the nice Kris. She was a wonderful, genuine person," she said. "I always thought highly of her. She was a hardworking woman even back then. She was always looking for something to do to show her worth, instead of being just a lawyer's wife. When your husband works that much and you have all that money and nothing to do, really she wasn't looking for it. Someone put the two together." But Jenner's honesty was questionable.
MORE ON:
Keeping Up With the Kardashians
Article continues below advertisement
"I didn't know she was married. She told us she was separated," she revealed to RadarOnline.com.
"She wouldn't talk about her husband with me. If she did I would have said, 'What are you doing here with my son? What are you doing coming after my young son with all of these kids?'" Waterman, then 24, and Jenner, then 36, were so close she even brought a then 5-year-old Khloe Kardashian to Waterman's family home and attended their family functions. "She would always come along with us to events. We even had a neighborhood wedding and she came," she said. "It was very serious. It was something strange that happens. It sounds like an affair to remember. They went skiing, went to games. That's why I thought she was separated because they went everywhere."
But according to Ilza, the affair was doomed from the start. It all came crashing down when Jenner's high-powered attorney husband phoned her house in the early morning hours. "Robert called in the middle of the night. This man called Todd asking if he knew where his wife was," she continued. "He Kardashian was very upset. I picked up and he said, 'She's with your son.' I said to him, 'It's 2:30 in the morning, your wife is 36 and my son is 24. I suggest you talk with your wife and I'll talk with my son.' "That's when we said, 'Pack your bags. This has gone too far,'" she told her son. "There's a problem and you have to pack. Stay away from Kris. Let her put her life together. "I told him it doesn't work like this, you have to let it go," she added. "He said, 'I'm just a kid and I could never support a child and give her the life she was accustomed to.'"
Article continues below advertisement
That's when Waterman moved to England to escape the family drama that ended up making Jenner a household name. Even nearly 25 years later, Ilza says she doesn't judge Jenner for what happened. Still, she's even tossed around the idea of writing a book of her own because, unlike her son, she never signed a confidentiality agreement. "I didn't. She never called me. I have millions of things… if I could talk about it, I could write a book. Maybe I should change the names like she did," she laughed.
"But it could get him in trouble and could be dangerous for him. You never know what people with money can do."