Kim Kardashian's Divorce Attorney Pens Juicy Tell-All -- So, Who's She Writing About?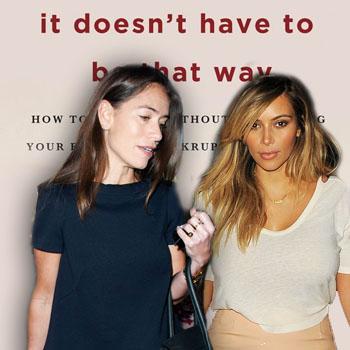 From sleazy affairs and drug use to domestic abuse and blackmail, there is no one who knows more about the dark underbelly of Hollywood than A-list divorce lawyers. Now, one of them is pulling open her secret files for the first time: Attorney Laura Wasser, divorce lawyer for Kim Kardashian, Angelina Jolie, Britney Spears, Ashton Kutcher, Mariah Carey and more, exposes the wildest things she's seen in nearly 20 years in the courtroom in her new book, It Doesn't Have to Be That Way: How to Divorce without Destroying Your Family or Bankrupting Yourself.
Article continues below advertisement
Of course, Wasser is smart enough not to name names, but celeb sleuths might be able to interpret the true identity of the people behind these jaw-dropping tales.
First up is "the bass player for an alternative rock band, I'll call him Zack," who Wasser represented in the early 2000s. (Some of her musician clients include Korn's Jonathan Davis, Offspring's Dexter Holland, and Linkin Park's Chester Bennington.)
"We were on the phone going over the settlement sent to my office by Zack's wife's attorney," Wasser writes. "It was about 10:00 in the morning. As I presented my analysis of the first couple of terms, I heard on the other end of the line an unmistakable bubbling sound. 'Dude,' I asked incredulously, 'are you taking a bong hit?'"
DOCUMENTS: Kim Kardashian Tries To Change Date Of Divorce Trial
"Silence," she writes. "Heavy exhalation from the receiver. A long sigh ending in 'Yeahhhhh.'"
Article continues below advertisement
Then there was "a client whose ex-wife was so desperate to get him out of the house that she beat herself up with a telephone handset in front of their child and then took photographs of her 'bruised' face in order to have 'evidence' of the abuse."
Yet another jilted wife stuffed the curtain rods in her mansion with shellfish and caviar before moving out, Wasser claims, so that her replacement would have to deal with a mysterious stench in her new love nest.
Article continues below advertisement
Male clients can be just as vindictive as their female counterparts, Wasser says. "I suppose one of the worst choices I have ever heard about was when the wife, who became my client, answered the door on Valentine's Day to see a deliveryman carrying a box big enough to contain a passel of long-stemmed roses," she writes. "Long-stemmed roses they indeed were: dead ones. Among their stems, speared onto a thorn, was a court summons announcing that my client was being sued for divorce."
But there's room for a little lovin' in divorce wars too.
One manipulative soon-to-be-ex-wife seduced her estranged husband and secretly filmed the act, Wasser says, so that she could force the court to recalculate their date of separation and get more money.
And then there was the "rock-musician client" who was running late to his final divorce dissolution, as was his ex-wife. Wasser writes, "By late morning, the judge rescheduled our hearing for after lunch, and it was around then that the couple arrived, together and disheveled-looking. I whisked my client off to the other end of the courtroom hallway and asked what had held him up. 'Well,' he said sheepishly, 'we were shagging in the back of her car.'"
(Wasser insists that man wasn't former client Slash of Guns 'N' Roses.)
Do you have a divorce story to top Wasser's? Share it in the comments!