Watch Out Kris Humphries, Kim Means Business! Kardashian Dons Power Suit, Hot Hoofs It To Divorce Attorney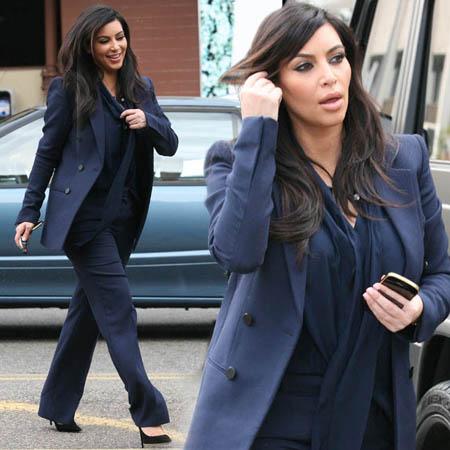 Kim Kardashian is gearing up for battle!
The 32-year-old reality TV star, who is pregnant with her boyfriend Kanye West's baby, suited up in a blue power suit and hit the streets of Los Angeles Tuesday, where she was photographed holding hands with her divorce attorney, Laura Wasser, and RadarOnline.com has the photos.
As we previously reported, the same day Kim was spotted with Wasser, her husband of 72-days, Kris Humphries, filed legal documents in their ongoing bitter divorce battle, insisting that the case can't go to trial yet because key witnesses have yet to be deposed and he hasn't received documents he says he needs.
Article continues below advertisement
However, it's evident that Kardashian is not taking Humphries' latest legal blow laying down by hot hoofing it straight to her power house attorney for a strategy summit.
The reality star hid her baby bump underneath a unusually conservative and oversized navy blue suit, while the famous "disso-queen," who is representing Kim, showed off her superior stems in a chic sleeved dress and grey platform heels.
RadarOnline.com was first to reveal the news that Humphries plans to prove their marriage was a fraud and also that his lawyers have been watching all of the Kardashian reality shows in a bid to gather information to bolster their case.