Exclusive
Inside Kris Humphries' Strategy To Prove Kim Kardashian Marriage Was Fraudulent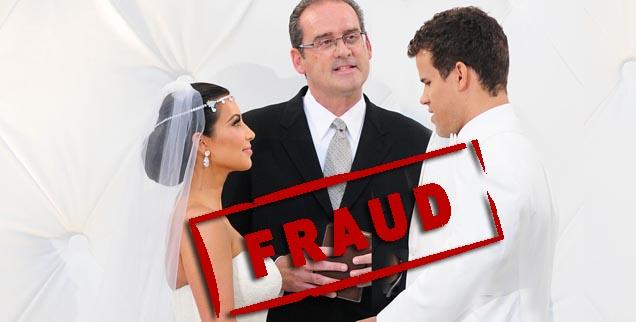 Kim Kardashian's husband of 72 days, Kris Humphries, has a well- planned strategy behind his bid to prove their marriage was a fraud, and RadarOnline.com has all the exclusive details.
"Kris' case will be very simple and straightforward," a source close to the situation tells Radar. "He believes the key to proving that the marriage was fraudulent lies in the production and filming of the Kardashian reality shows. Kris says that just before filming began on the fourth season of Kourtney & Kim Take New York, he started to have boxes of his belongings shipped from Minnesota to Kim's house in Los Angeles, and that she began freaking out about it and questioning if it was a good idea for him to move in. Kris says he was stunned by her reaction, and he subsequently decided to stay in Minnesota longer than he had originally planned because of it.
Article continues below advertisement
"Then, he claims, a short time later, Kim began to bombard him with text messages and phone calls ordering him to come back to New York and be with her because filming was about to start. Kris says he couldn't believe it....here was his new wife losing her mind because he was having stuff sent to her house in California, but then she has no problem pressuring him to return to NYC for the show!"
During the season premiere, the new bride is captured on camera confiding to Kourtney, "I can't live with Kris, he is such a slob....I'm not used to someone in my space, let alone messing it all up....I don't know if I can live with him at home in L.A."
Kim and Kris had been married for approximately one month at that point!
As RadarOnline.com previously reported, Humphries' attorneys are among the millions of viewers tuning in to watch the various Kardashian shows so that they can gather as much information as possible to question his ex with during her upcoming deposition.
"The deposition will take place in the next several months, after having been postponed several times due to scheduling issues on both sides," the insider says. "The delays are benefiting Kris' team right now as it just gives them more time to gather yet more ammunition to bolster their case.
"And, the shows are proving to be a goldmine! On a recent one, Khloe is filmed whining to Kim about how long the divorce is taking and bitching that Kris doesn't talk, but barks like a dog. Kris believes Kim and her family are using the reality shows to tarnish his name."
Meanwhile, Kim is currently pregnant with boyfriend Kanye West's baby, and given that the divorce trial with Kris isn't scheduled to begin until the middle of June, she will likely still be married to Humphries when she gives birth.