Exclusive
Kim Kardashian Will Be Grilled About Relationship With Kanye West During Divorce Deposition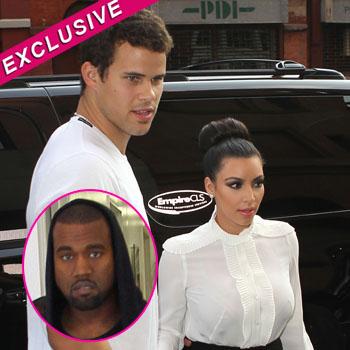 By Jen Heger - Radar Assistant Managing Editor
Kim Kardashian is going to be grilled about her relationship with new beau Kanye West at her upcoming divorce deposition because her estranged husband, Kris Humphries, alleges he was duped into marrying the E! reality TV star, RadarOnline.com is exclusively reporting.
Humphries lawyers "have been watching the current season of Keeping Up With The Kardashians and will be questioning Kim about her relationship with Kanye as he has been appearing on the show. During last week's episode, Kim revealed that she and Kanye have a lot in common, including cars. Kris' lawyers want to know when Kim and Kanye first hooked up-- was it recently, or did they have a dalliance in the past? Team Humphries will also want to know about Kanye's involvement with the reality show -- for instance, is he being paid, are there plans for a spin-off show for the new couple? Kris' lawyers will use this as evidence that Kris was duped into marrying Kim because of the pressure the family is under because of their reality shows," a source close to the situation tells us.
Article continues below advertisement
Humphries was deposed several weeks ago, and "Kim's deposition will likely be happening in the next two-three weeks. Kris' team isn't under a huge rush to depose her because they feel that the more she puts her relationship with Kanye out there, the more ammunition they are going to have when it's her turn," the insider tells us.
As we previously reported,  Kardashian has suffered a legal setback in her ongoing bitter divorce battle as reports that her star witness, Myla Sinanaj,  is pregnant with Kris Humphries' baby have proved to be false. It was a major legal setback for Kardashian as her lawyers had subpoenaed Myla to be deposed in divorce proceedings and could have poked holes in Humphries' claims that he had been defrauded by the reality star in the marriage.