Exclusive
Former Kardashian Nanny Tells All, Kris Jenner's Meltdowns & Bruce's Plastic Surgery!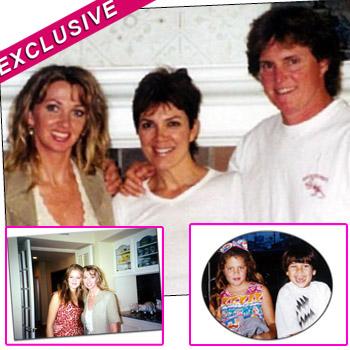 Article continues below advertisement
Pam describes the kids when she initially met them calling Kourtney (12) "a serious child" who "spoke her mind," Kim (10) was "gorgeous" and "always very sweet and friendly," Khloe (6) was "a pistol, full of energy," and Robert (4) was "mostly sweet and precious."
In the first chapter of the 148-page book, Pam paints a scary portrait of Kris as a boss, detailing one of her first tasks of grocery shopping for the family.
"When I got home, Kris, who was in the kitchen, looked at the groceries I had just purchased, and let out a torrent of expletives. '$#&%! $#&%! $#&%! I can't believe you forgot the $#&%ing broccoli!,'" Pam writes.
"Broccoli was not on the short list she had given me that day, although it was a regular item on the weekly list. I did not know, shame on me, that keeping broccoli stocked in the refrigerator was so critical."
Article continues below advertisement
Pam says Kris apologized the next day and during her employment with the family she went on to call Kris a "brilliant businesswoman," said Bruce was like a "big brother" to her, and of the Kardashian girls she was closest to Khloe.
The former nanny is not surprised the family is now on TV, saying that Kris groomed the children for fame.
"Kris always seemed to be rubbing elbows with people that were 'somebody.' Kourtney, Kim, Khloe and Robert spent time with friends whose parents were celebrities or people in the limelight," Pam wrote.
"I believe she was grooming her children for their current celebrity status their entire lives... I do believe that the success they enjoy now is what she always hoped for and wanted for them and for herself."
Speaking of grooming, Pam reveals Bruce's early affinity for plastic surgery.
"Bruce told me one time that I was a cross between Farrah Fawcett and Goldie Hawn, which put a big smile on my face. Despite this, the subject of plastic surgery came up one day in an unexpected way. Bruce was looking at me funny," she wrote.
Article continues below advertisement
"'What?' I asked as he stared at my face. 'You should probably have a little taken off your nose.' Huh? I'm nineteen. It had never, ever occurred to me that I might need a nose job... I guess in the land of the beautiful and perfect people, there was always some 'work' that could be done."
During Pam's time as a nanny for the Kardashians, Kris was good friends with Nicole Brown Simpson and their children often played together and the families vacationed together.
"All of the kids, but especially Khloe and Robert, were in shock," Pam wrote of Nicole's 1994 murder.
"They were very disturbed and kept asking questions. They'd wake up in the middle of the night with bad dreams and more questions."
In early 1995, Kris got pregnant with her and Bruce's first child together, Kendall, and just months after she was born Pam left her job with the family to pursue other avenues in her life.
Article continues below advertisement
"I loved those kids, and it was truly hard to leave them. Yes, I was the hired help and I had done the job I had been paid to do," Pam wrote.
"I poured my heart into my job, and I poured my heart into them. I nurtured them. I cared for them. Hopefully, I made a difference in their lives."
To read Pam's entire experience with the Kardashians and Jenners with a never-before-heard insider view, including Pam's wild fling with Sylvester Stallone, click here.