Bruce Jenner At Fan Event - Barely Recognizable As Same Face On His Wheaties Box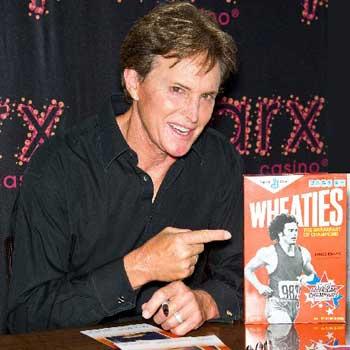 At a fan event in Bensalem, PA Saturday, Bruce Jenner sat at a table, pointing at a classic box of Wheaties with his picture. The differences between Jenner then and now are so striking, he is barely recognizable as the same man.
The Keeping Up with the Kardashians dad has admitted having work done and two facelifts, but even those procedures don't fully explain the dramatic changes.
In a 2009 episode of his realty show, stepdaughter Kim explained that Bruce had undergone a nose job and lower facelift in the 1980s. "Unfortunately, the result wasn't what Bruce had hoped for and for years since then he has been the victim of cruel taunts from the media. Since he's turning 60 in October, Bruce felt it was time to correct the mistakes made by the previous doctor so he went to a new doctor for a second facelift."
Article continues below advertisement
Fans at the Parx Casino meet-and-greet couldnt help but notice the now 62-year-old Jenner's thinned nose and softened jawline, and his perfectly tweezed brows and manicured hands. There's also the diamond stud earrings that even wife Kris Jenner has complained about on their show.
It may all be in keeping with the claim from one of Jenner's ex-wives that he is actually a cross-dresser!
The Wheaties box celebrated Jenner's stunning gold medal performance in the decathlon at the 1976 Summer Olympics.
MORE ON:
Keeping Up With the Kardashians