Kim Kardashian Tells Oprah: I Did NOT Get Married For Ratings!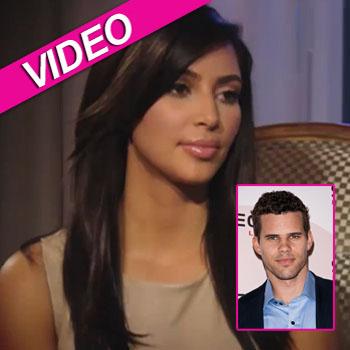 Article continues below advertisement
Kim denied the nuptials were to bring attention to her family, saying, "We have an amazing fan base that watches the show -- we don't do anything for ratings.
"I was in love: I wanted the life that I always pictured my fairytale life to be," Kim told Oprah. "I would've had an extravagant wedding anyway, to end that relationship was a risk in itself to lose ratings and I had to take the risk to be honest to myself."
She said that while everything was great in the beginning, the bloom quickly came off the rose after she and Humphries moved in together.
"I saw how our relationship was," she said. "I don't want to get into the small things, but once we moved in, I knew he was not the one."
While Kim never actually said Kris's name aloud in the chat, she conceded that the New Jersey Net forward is a good person.
"I will always have a place in my heart for him -- it just wasn't for me," Kim told Oprah. "You know in your heart."
Article continues below advertisement
Kim said that the fallout of the quickie marriage -- essentially becoming a pop culture punchline for a brief union many media pundits considered a publicity stunt -- almost caused her to step out of out of the spotlight for good.
"I was in such a deep depression I thought I was going to back away from everything," she said. "I stayed at home for almost four months and I'm a better person now, as heartbreaking as it was to go through.
"I loved him, obviously it hurt him, and it hurt me too. It was embarrassing, I don't want to call it a mistake, it was a lesson."
Watch the video on RadarOnline.com
On a more positive note, Kim told Oprah how a change in dating habits has helped in her scorching romance with Kanye, 35.
"I always dated five years younger," Kim, 31, said. "My whole thing was completely different, and now I just love that I'm with someone that's a couple years older than me.
Article continues below advertisement