Kim & Kris Walk Down The Aisle On Kim's Fairytale Wedding, Part II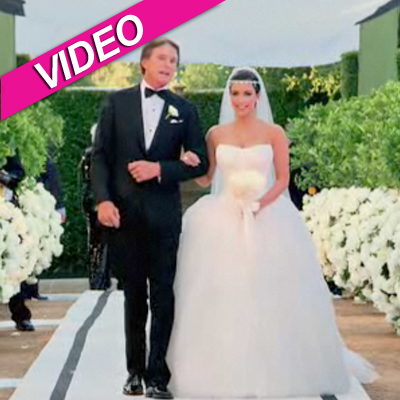 The second half of E!'s Kim's Fairytale Wedding: A Kardashian Event aired Monday night, and viewers got to see Kim Kardashian and Kris Humphries exchanging their "I do's" in storybook form.
The episode featured some of the usual events that accompanied weddings, such as Kim getting fitted for a dress, opening presents from members of her bridal court, developing the menu for the guests and more.
Article continues below advertisement
Even Kim -- known for her busy, jet-setting lifestyle -- was a little weary of all the wedding-related festivities, saying, "I don't know how Elizabeth Taylor got married so many times!"
Monday's episode picked up where Sunday's left off -- on a tense note, as Kim and sister Khloe had it out over Khloe's constant needling of Kris, with Kim telling Khloe she was dis-invited to the wedding. Khloe however, made good, showing up at Kim's bachelorette party with reconciliation on the mind.
We also saw Kim visiting Kris' grandparents in Minnesota for the first time -- and Kris passing gas in front of his wife-to-be as she gave him a pedicure. When they returned to the flashing bulbs of paparazzi in L.A., an irritated Kris suggested he and his fiancé move to the quiet surroundings of his native Minnesota to start a family, but Kim nixed the idea. In another sequence, Kris tried to get Kim to change her last name to Humphries, but again, no dice.
Article continues below advertisement
An exasperated Kris decided he was out of the loop on every wedding-related decision, so he did the only thing he could: He grew a mustache, the last thing he had any decision-making power on in this affair.
Watch the video on RadarOnline.com
Toward the end of the episode, a tear-jerking moment occurred when Kim's stepfather Bruce Jenner brought the reality starlet a few shirts that belonged to her late father, famed O.J. attorney Robert Kardashian Sr., to weave into her own wedding gown.