Khloe Kardashian & Kris Humphries Clash At Kim's Fairytale Wedding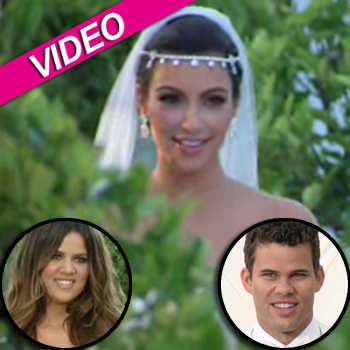 The first half of E!'s Kim's Fairytale Wedding: A Kardashian Event aired Sunday, and while we all know Kim Kardashian and Kris Humphries wound up exchanging their "I do's" in storybook form, the couple had to go through hell to get to heaven, as part one would illustrate.
In the episode, Humphries got into a few flare-ups with his sister-in-law-to-be, Khloe, who groused, "I don't know what it is about Kris, but every time he's around, he wants to start sh*t with me, but I fight right back."
Article continues below advertisement
During a scene at Kim's engagement party, Humphries and Khloe got into it after the Kardashian sister needled him relentlessly, toasting him with the toxic line, "We wish you the best, 'till death do you part -- death, 26-year-old! death!"
"Wow, I'm gonna kill this girl!" Humphries said.
The tension even seeped down to Kim and Kris' relationship, as the NBA forward complained after seeing Kim and her mother, Kris Jenner, making plans for the wedding without bothering to get his input.
"I have been planning my wedding since I was 10 years old!" Kim told Kris, who responded, "And you could just slot any guy into it!"
The episode -- which also saw Kris Jenner go in for cosmetic surgery on her neck -- ended on a tense note, as Kim and Khloe had it out over the constant digs at Kris, with Kim telling Khloe she was dis-invited to the wedding.
As we previously reported, Hollywood was out in full force for the August 20 affair, with stars like Eva Longoria, Mario Lopez, Ryan Seacrest and Julianne Hough, George Lopez, Sugar Ray Leonard, Lindsay Lohan with mom Dina, and Ciara all in attendance.