Kim Kardashian & Kris Humphries Renew Their Vows On Ellen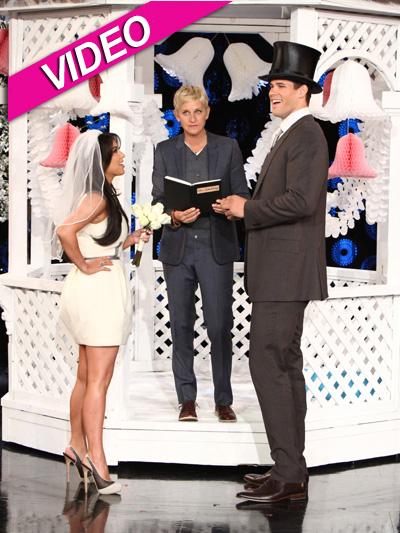 They've been married for just five weeks, but on Wednesday's episode of The Ellen DeGeneres Show, reality star Kim Kardashian and NBA forward Kris Humphries renewed their vows and RadarOnline.com has the video.
Kardashian, 30, donned a veil, while Humphries, 26, wore a top hat for the faux ceremony, in which Ellen told Kris to say, "I promise to love, trust and keep up with you."
As for Kim, Ellen told her to repeat, "I take Kris to be my husband and co-star, to love and honor you to always put you first -- or at least above Khloe, but below Kourtney!"
Article continues below advertisement
Earlier in the episode, Ellen asked the newlyweds, "If you could get married again, what would you differently?"
Kim said she'd "elope," while Kris said he'd want "a longer after party."
"I would say a longer after party, but I was so crazy for an entire month," Kim said. "I don't know how wedding planners do this for their job: I literally went crazy -- it was so stressful!"
To see the real thing, check out Kim's Fairytale Wedding: A Kardashian Event, which airs on E! Sunday at 8/7c and Monday at 9/8c.