Exclusive
Kris Jenner: 'I Could Have Saved Nicole Brown Simpson'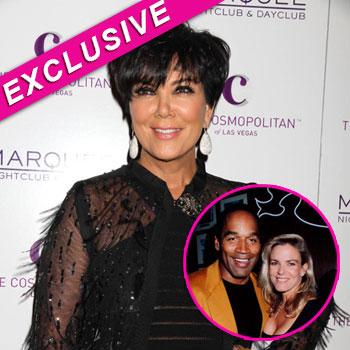 Kris Jenner's blockbuster memoir, previewed exclusively on RadarOnline.com on Saturday, is shedding a dramatic new light on the murder of her best friend Nicole Brown Simpson.
Nicole, the ex-wife of football superstar-turned actor O.J. Simpson, was found brutally stabbed to death at her Los Angeles home approximately 10:50 pm on June 12, 1994. Her friend Ron Goldman was also murdered.
Article continues below advertisement
Now RadarOnline.com is revealing that Kris believes she could have saved Nicole had she met with her, as Nicole wanted, the very morning of her friend's murder.
Nicole called her early on June 12th, Kris writes. "Nicole said, "Can you get over here...? I need to talk to you. It's really important'."
Busy with her own children, Kris asked if they could put it off until the next day. But Nicole was persistent. "'That's okay, can you meet me tomorrow for lunch? I really have to talk to you about something really, really important'." Says Kris, "It would be the last time I would ever speak to Nicole."
The next morning, Kris was plunged into shock and trauma as she woke to the news that her close friend had been stabbed to death. "I instinctively knew that in some way O.J. had something to do with her death.
"I truly couldn't believe she had been so betrayed by the person who she had once loved most. That O.J. would be so destructive and selfish and jealous that he would do that to her was just mind-blowing to me. All these thoughts were running through my mind: This can't be true."
Article continues below advertisement
Her sadness grew even deeper as she realized that changing her schedule to meet Nicole on the eve of her murder could have saved Nicole's life. A mutual friend later told her, Kris writes, that "Nicole had been beaten up by O.J. and she had been keeping this physical proof in the form of photographs and, it would turn out, other evidence, in which she had documented seventeen years of abuse. Nicole really wanted someone close to her to know what was going on, so that somebody - namely me - could be a witness."
Kris was devastated at missing the opportunity to possibly save her. She recalls screaming, "'Oh my God! It's too late! It's too late!'...The realization that she had wanted to confide in me hit me so hard. ... And I had let her down."
O.J. stood trial for both Nicole and Ron's deaths, and was found not guilty. In a civil case brought jointly by the Brown and Goldman families, he was found liable for their deaths, and ordered to pay $34 million in damages. They only ever received a few thousand.
Article continues below advertisement