Kris Jenner's New Book Rips The Lid Off The O.J. Simpson Murder Case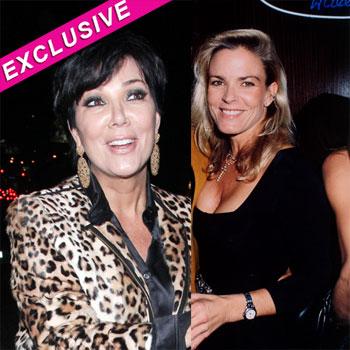 Kris Jenner is known as the ultimate momager, the woman who catapulted her daughters Khloe, Kourtney, and Kim Kardashian to stratospheric fame.
But before that, Kris was famous as the ex-wife of O.J. Simpson "dream team" attorney Robert Kardashian and as one of Nicole Brown Simpson's best friends.
Now, for the first time, Kris is speaking about O.J.'s murder trial -- and secret evidence only she has known -- in her memoir, Kris Jenner...and All Things Kardashian.
Article continues below advertisement
Only RadarOnline.com has an exclusive look at her blistering attack on O.J., of whom Kris says, "I never believed O.J., not for one second."
The abusive Simpson marriage ended in divorce in 1992 but Nicole's fears about O.J. became worse after the split. Kris writes that Nicole told her, 'He's going to kill me and he's going to get away with it.'
"She was a wreck," Kris writes. "She was convinced that someone was looking in her windows and climbing through her bushes in the middle of the night. She became convinced that the person spying on her was either O.J. or someone sent by O.J., who was obsessed with what she was doing when he wasn't with her. She told me that she was being stalked, and she believed it was O.J."
When Kris -- along with the rest of the world -- learned on June 12, 1994, Nicole and her friend Ron Goldman had been murdered, Jenner writes, "I instinctively knew that in some way O.J. had something to do with her death."
Kris was in limited contact with her ex-husband Robert during the trial -- they'd divorced in 1990 and she'd since married Bruce Jenner -- she found herself unwittingly enmeshed in the details of the case.
Article continues below advertisement
While driving in L.A. shortly after the murder, for example, she found herself stopped at a light next to Robert and O.J. When she called Robert to figure out what they were doing, just days after Nicole's horrible death, she recalls feeling very suspicious.
"'O.J. was really upset because we had to go to the airport to get his golf clubs," Robert explained," when Kris called him with questions later that night, she writes. Incredulous, Kris asked why a grieving man would do such a thing, when the airport could just mail them to him. She continues, "'Well, Kris,' Robert said, "he was at a golf tournament,'"... referring to O.J.'s supposed whereabouts in Chicago the day after the murder. "'When the police came and took him to the airport and he got on the plane, his clubs didn't make it. They just arrived today.'"
"I thought that sounded suspicious," Kris admits. So did many others, and the rumor arose that O.J. had hidden the murder weapon, a knife, among the metal clubs so it wouldn't set off security alarms.
Bikini Wars! Battle Of The Booty
Even more suspicious, she writes, "According to Robert, that night or shortly thereafter, O.J. said that he wanted to go for a walk, and he needed to go by himself. He said he needed to go "talk to Nicole." So he went on this really long walk...I'll always wonder what O.J. did on that walk. Did he take the knife out of the golf bag and throw it into a canyon or in somebody's trash can? That still haunts me."
Article continues below advertisement
Furthermore, Kris claims she was with Nicole when she bought gloves very similar to the infamous leather version O.J. tried on during the trial, but when he put them on for the jury they were obviously shrunken from contact with a liquid. "It was such a ruse," she laments.
Kris was never called to testify about any of this information or about the domestic abuse Nicole suffered, and it seems she is relieved to finally tell Nicole's side of the story in her memoir.
Kim Kardashian Tries On Many, Many Wedding Dresses
"We couldn't believe it. Not guilty!...," Kris writes, "'Wow, there is no justice for her,' I thought....We were all so devastated."
But ultimately, Kris knew O.J. would fall victim to another form of retribution. "I knew that, on some level, he would suffer for what I felt he did," Kris confesses. "I took some solace in that."
Simpson was later found liable in the deaths of Nicole and Ron Goldman in a civil lawsuit brought by their families. He was ordered to pay them millions but they saw only a few thousand dollars.
Article continues below advertisement
It was ironically a case involving his own sports memorabilia that finally put OJ behind bars.
Kourtney Kardashian Buys A Snake!
O.J. is now in the Lovelock Correctional Center near Las Vegas. On December 5, 2008, he was sentenced to 33 years for several felony convictions including kidnapping, criminal conspiracy and assault with a deadly weapon.
Robert Kardashian admitted in a 1996 interview that he had "doubts" about his friend's innocence. He died in 2003 without ever revealing more than that.