Exclusive
Convicted Fraudster Files Crazy Motion Claiming He Made Two Sex Tapes With Kim Kardashian!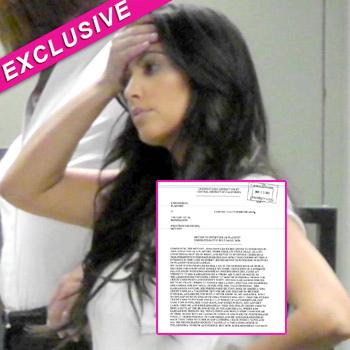 A man, who holds the Guinness World Record for being the most litigious person in history, has filed court docs asserting that he has made two sex tapes with Kim Kardashian and that he lost his virginity to the reality star on an airplane while the duo were allegedly going on a trip together to Armenia, RadarOnline.com is exclusively reporting.
Jonathan Lee Riches, a felon convicted for fraud who has filed more than 2,600 lawsuits since 2006, submitted a motion to be added as a plaintiff in Kardashian's lawsuit against The Gap and Old Navy. Kardashian is suing Old Navy, which is owned by the same company as The Gap, for using a look alike in their ads without her permission.
Article continues below advertisement
DOCUMENTS: Jonathan Lee Riches Files Motion In Kim Kardashian Lawsuit Against The Gap
"I have been in an intimate relationship with Kim Kardashian since 2001. I lost my virginity to Kim Kardashian on a Virgin Air Flight en route to the Armenian Hilton Hotel. I spent 125 months in federal prison for credit card fraud and identity theft and Kim Kardashian forced me to do fraud crimes to finance her lavish lifestyle and bankroll her career...I borrowed Ray J's camcorder and me and Kim Kardashian made 2 sex tapes with her in Gap clothing. I have those 2 tapes and all the photographs secretly saved at a YMCA gym locker in Philadelphia to show as evidence," Riches says in the motion.
Riches goes on to say that "Kardashian is now threatening my life since I got released from prison on 4/30/12, telling me if I expose our relationship that she is going to get her sister Khloé's husband, Lamar Odom's basketball buddies to come hunt me down and stuff basketballs in my throat to shut me up. Im so scared, Im whistleblowing now, because Kim Kardashian should of went to prison for my crimes, I did it all for her."
MORE ON:
Celebrity Justice
Article continues below advertisement