Exclusive
Kim Kardashian 'Couldn't Care Less' About Paris Hilton Feud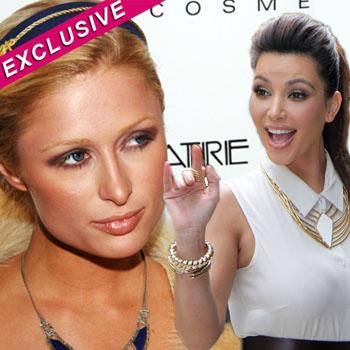 Article continues below advertisement
"Kim will always be a sore spot for Paris because she believes that without her Kim wouldn't have the success she has in her life," a source close to the situation previously told RadarOnline.com. "Paris thinks Kim wasn't a loyal friend to her and only used her to gain fame and that she is ungrateful for everything Paris claimed to do for her."
Kim and her family have become household names the way the Hiltons once were, and this has annoyed Paris' family.
"Bottom line, Kim used her friendship with Paris, straight up," the source says. "She knows what she did and doesn't care. It's just like she's now using Kanye West to advance her agenda."
Kim and her sisters have seen a financial windfall lately, especially with their reported $40 million payday for their E! reality shows, while Paris' recent Oxygen network show flopped.
"The Kardashians used the Hiltons all the way to the bank," the source says.
Article continues below advertisement
"Kim is so desperate for attention, even within her own family. She decides to wear ridiculous colored wigs for no reason other than to see how they all react to her."
Meanwhile, as RadarOnline.com previously reported, Paris is desperate to get herself back in the spotlight and is hoping her upcoming album will catapult her back to relevance once again.
Despite the fact that Paris' first album sold only 197,000 copies when it was released in 2006, the hotel heiress "is focusing all of her creative energy into her second album," a source close to Hilton told RadarOnline.com.