Exclusive
Paris Hilton Jealous Of Frenemy Kim Kardashian's Fabulous Life!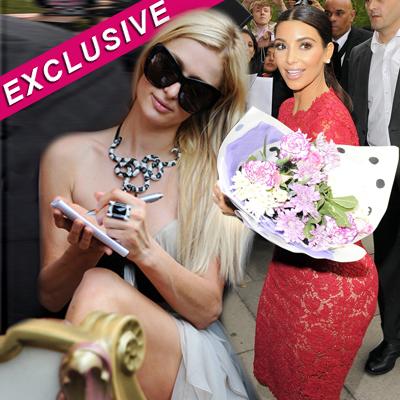 Article continues below advertisement
As we previously reported, Paris and Kim have famously been mad at each other for years; however they did engage in some small talk last week during an embarrassing run-in on P-Diddy's yacht, but the brief encounter had Hilton's nerves frayed.
"Kim will always be a sore spot for Paris because she believes that without her Kim wouldn't have the success she has in her life," a source close to the situation tells RadarOnline.com. "Paris thinks Kim wasn't a loyal friend to her and only used her to gain fame and that she is ungrateful for everything Paris claimed to do for her.
"Paris is extremely jealous of Kim's success with her reality shows as Paris' last foray in television was a complete flop. Her show on Oxygen was a ratings disaster and didn't get renewed. Adding to Paris' angst is that attention that Kim is getting from dating Kanye. Paris has been dating DJ Afrojack, but he's nowhere near the fame league that Kanye is, and adding to that, the relationship has now cooled. He didn't accompany Paris to Cannes and he didn't go with her to Las Vegas for Memorial Day while he was working in Atlantic City.
Article continues below advertisement
"Afrojack is extremely busy with his gigs and plays nightly at clubs all over the country, and Paris isn't going to go on the road with him and be a groupie. Paris looks at Kim's life and the fact that she is constantly featured on the cover of entertainment and fashion magazines while she isn't -- and well, that stings."
Once the best of friends and even both starring in sex tapes, their desire for fame has eclipsed their friendship. Paris' TV career has floundered while Kim's reality show empire with E! just brought in her family an estimated $40 million for the upcoming projects. The original celebutantes have battled over the years for the spotlight, which Kim seems to have taken away from Paris, especially with her high-profile romance.
During a television interview in Australia recently, Hilton was asked, "What about when you're not famous anymore, what are you going to do?" The 31-year-old responded by saying that she "just wants to be able to have children and have a normal life with my kids." And, although she said it all with a smile, her publicist later made it clear that the heiress was not happy with being asked about losing her fame.
Article continues below advertisement
"Paris knows that Kim would have never been asked that question. Yes, she does have a very successful fragrance line but Paris thrives on the attention and she knows that Kim just gets a lot more than she does from the press, public, and even their mutual friends," the insider says. "Paris is hoping that when she releases her upcoming album that her fans will embrace it. She has been working on it for several years now and hopes it will create a lot of buzz."
Last July, Hilton became upset when Good Morning America reporter Dan Harris asked her if her "moment has passed" following the disappointing ratings she got for her reality show, The World According to Paris, and being overshadowed by her former friend Kim Kardashian.
A peeved Paris walked off camera, leading to what Harris called "a long, heated conversation with Hilton and her publicist" before taping of the segment resumed. "You never see Kim acting like that ever with the press, even when she is asked if her marriage to Kris Humphries was a sham, or any other grueling questions. Kim always handles herself with class, clearly something Paris can't say," the source says.
Article continues below advertisement
So, is there any chance the former friends can officially bury the hatchet for good? Not a chance, says our insider.
"Look, their friendship wasn't a genuine relationship to start with, meaning, it was all about Paris," the source says. " Kim doesn't think about Paris at all or miss her as a friend. Too much time has passed and they have both changed so much in that time. So while they may smile at each other at events they won't be going out to lunch or dinner anytime soon."