Blink And You'll Miss It! Kanye West Makes Very Brief Cameo On Kim Kardashian's Show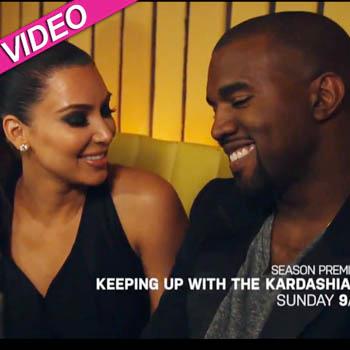 Kim Kardashian's A-list hookup with rapper Kanye West is chronicled on this Sunday's season premiere of Keeping up with The Kardashians, where we see Kanye get something Kim's ex Kris Humphries never could have: sister Khloe's approval!
"Kim and Kanye are like two peas in a pod," Khloe tells Kourtney of the Flashing Lights singer, 34, as they attended the opening of RYU, the restaurant venture from Kourtney's baby daddy, Scott Disick.
Article continues below advertisement
Still if viewers are hoping for a full-on Kanye-fest because of his newfound relationship, they might be disappointed, according to Kim.
Kris Humphries Doesn't Want One Dime From Kim Kardashian
"I'm not going to be taking a bubble bath and drinking champagne or on a sex swing like Khloe and Lamar do," she told E! News. "It's not going to be like that. If we are having dinner and he does show up, I'm sure we're not going to go, 'Stop the cameras!'"