Kim Kardashian Reveals More Than Her Assets! 'Khloe Asked Me To Be Her Surrogate'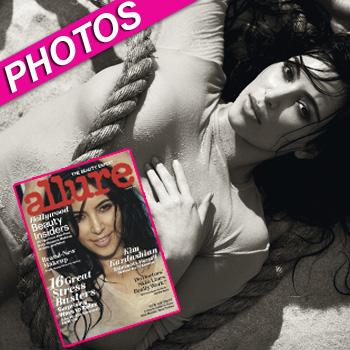 Will Kim Kardashian carry Khloe and Lamar Odom's child?
The busty reality show star stripped down and struck some sexy poses for one of her sexiest photo shoots ever in the March 2012 issue of Allure magazine, revealing a whole lot more than her hot body! The newly single star opens up about the possibility of not having children of her own, as well as carrying her sister's child, in the extensive interview, and RadarOnline.com has the details.
Article continues below advertisement
"Do I want kids of my own? Absolutely," she reveals to the fashion magazine. "But I don't know if that's what's meant for me. Maybe I'll just work, work, work, and not think about it."
Khloe, who has been openly struggling to get pregnant with her NBA husband's child, is apparently exploring all options!
"Khloe joked with me and said, 'Will you be my surrogate?'" Kim reveals.
"I think I have a couple more years when I just want my body to myself. At 35, I promise I'll consider it."
As for Kim's future romantic endeavors, don't expect to see her show them off as publicly as she has done in the past.
Currently in the process of divorcing her husband of 72 days, Kris Humphries, Kim explains that the experience has "Definitely made me want to be more private with my relationship, whenever I choose to get into one again. I'm not ready but when that time comes, I'll be more cautious about who I let my world open up to."