Kim Kardashian's Heart To Heart Talk About Divorce With Kris Jenner Was Staged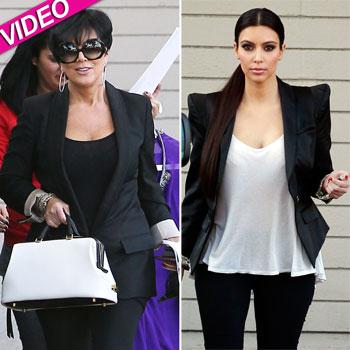 Kim Kardashian and Kris Jenner had an emotional heart-to-heart chat about the break down of Kim's marriage in last Sunday's episode of Kourtney and Kim Take New York. The episode featured the two women in the back of a limo last fall.
Only it wasn't! The women were in Dubai in October, and the "heart to heart" scene was shot in December and inserted into the episode!
The proof is in the fashion, reports Reality Tea.
Article continues below advertisement
In photos taken of the pair December 6, as they exited a TV studio, Kim is dressed in the exact outfit, with the same hair style and earrings, as she is seen wearing in the scene supposedly shot in mid-October in Dubai. And mom Kris was followed out of the studio by an assistant carrying the purple kaftan-style dress she is seen wearing in the back of the limo.
Other hints to the fake scene include the fact that the limo scene features completely blacked out side and back windows, and the sound quality of some of the dialogue is distinctly different indicating it was an inserted voice over.
Kim filed for divorce from Kris Humphries on October 31, just 72 days after their lavish televised wedding.
Before last week's episode aired, Humphries sent out a cryptic tweet – "I can't wait for the truth to come out! People will be surprised or maybe they won't. #FCC."
Now we know "the truth" he was writing about.
This isn't the only "fake" dodging the Kardashian clan right now.
As RadarOnline.com has been reporting, before his death, Robert Kardashian told his two post-Kris wives that Khloe was not his daughter.