Exclusive
Real Story Behind Robert Kardashian & Kris Jenner's Divorce Revealed: And It's Nasty!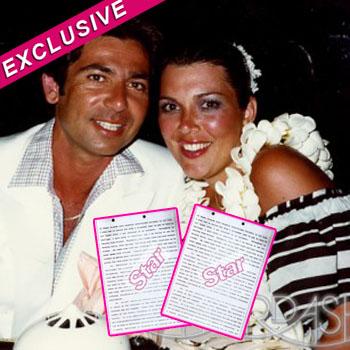 The never before seen 1991 divorce and child support documents between Kris Jenner and the late O.J. Simpson attorney, Robert Kardashian ­ exclusively obtained by Star magazine ­ reveal The Kardashian household was thrown into turmoil after Robert found Kris in the arms of her boy toy Todd Waterman.
According to the divorce papers, which you can read exclusively here on RadarOnline.com, the couple went head-to-head over Kris' lavish spending and Robert accused his then-wife of flaunting her new relationship with now-husband, Bruce Jenner in front of the children ­ even letting the kids see them in bed together!
Article continues below advertisement
EXCLUSIVE DOCUMENT: Read Robert Kardashian & Kris Jenner's Divorce Papers
In the documents, filed in the Los Angles Superior Court, Robert revealed he was so upset when he found out about the affair, after almost 12 years of marriage, that the court feared he was a threat to his family and awarded Kris temporary custody of Kim, Kourtney, Khloe and Robert Jr.
EXCLUSIVE DOCUMENT: Read Robert Kardashian's Declaration
But Robert claimed the court ordered psychologist found his anger problems were "only situational."
"This is true," Robert said. "It was true that I was very upset when I found out the respondent was having an affair and I wanted a divorce."
According to the documents, after discovering the affair an angry Robert cancelled Kris' credit cards, store cards and stopped paying for her extravagant lifestyle ­ something Kris bitterly fought against as she claimed she deserved the "luxury lifestyle" she had been leading.
Article continues below advertisement
"The petitioner and I shared a luxury lifestyle," Kris said in her petition for spousal and child support. "Nothing was too good for our family. Even our children's clothing was purchased at exclusive boutiques."
In her petition, Kris goes on to detail her tastes for fancy restaurants and boutiques, high-priced European holidays and lavish home entertainment ­ "The New Year's Eve party alone cost between $10,000 and $12,000. Since January 1990 the petitioner has essentially cut me off from all funds.
"In order to have some cash at my disposal to meet the basic needs of myself and my children, I have taken a job offered to me by my friend who has just gone through a divorce.
"(But) I am earning less money than our paid household help," Kris said.
Robert, at the time, claimed to be unemployed and only earning $2,000, but Kris told the court it was voluntary as he wanted more money than what had been offered to him by a law firm, so she demanded he be ordered to work to cover her and the family's expenses ­ which monthly added up to a massive $37,189!
Article continues below advertisement
According to Kris' sworn statement this included the $15,000 a month mortgage payment on the Beverly Hills home, wages for a gardener, a maid and housekeeper as well as clothing costs. According to Kris, each month she spent $800 on clothing for all four children but spent $2000 on herself.
Kris' lawyers also demanded Robert pay for the family's extensive debts on store cards for some of Los Angeles top stores including Neiman Marcus and Saks 5th Avenue ­ which had grown to more than $21,000.
Money problems aside, Kris accused Robert of emotionally abusing her with a then 9-year-old Kim forced to witness the aftermath. "As a result of (Robert) and my irreconcilable differences, there is a tremendous amount of discord at the family residence," Kris claimed in her petition.
"Every time (Robert) and I speak, (Robert) emotionally abuses me to the point that I am unable to handle the simplest tasks for hours after our conversation. In every conversation (Robert) and I have, (Robert) calls me a whore, a bitch, a slut and other names I can not repeat.
Article continues below advertisement
"On May 3, 1990 Kimberly found me crying after a brutal conversation with (Robert) and she became so upset I had a difficult time getting her to her carpool on time. Kimberly called my office twice that afternoon crying hysterically, begging me to come home."
Because of the alleged abuse and Robert's erratic but "excessive doting attention" on the children, Kris demanded Robert be banned from the family home. However, Robert argued he be allowed to move back into the home to protect the children from Kris' now husband Bruce Jenner ­ claiming Bruce and Kris' relationship was detrimental to the children and Robert Jr. even witnessed his still-married mother in bed with Bruce!
According to Robert's statement, while he was forced to live with relatives Kris had moved Bruce in, along with his four children ­ including reality star Brody Jenner ­ as well as his extended family.
"I believe this situation is inappropriate for several reasons," Robert said. "Firstly my children are exposed to another man living with their mother. I believe that is inappropriate and I ask the court to enjoin and restrain (Kris) from living with any member of the opposite sex in or about the presence of our children.
Article continues below advertisement
"As a matter of fact, my son Robert said he slept on the couch in (Kris') bedroom when (Kris) and her boyfriend were in bed together in the bedroom. In my option this situation is detrimental to the children," Robert told the court.
Robert also claimed the stress of the divorce was not just affecting the children but also his mother ­ whom he had moved in with.
"My mother had a stroke two weeks ago which is stress-related and may have been caused by the stress of the divorce."