Exclusive
Will Khloe Kardashian Take A DNA Test?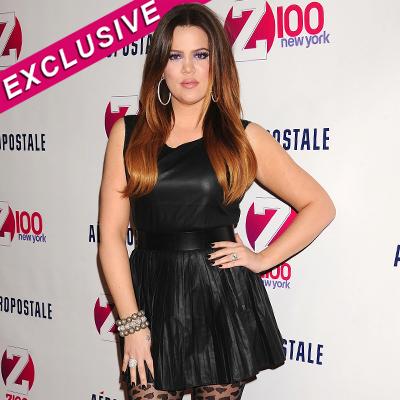 By Jen Heger - RadarOnline.com Legal Editor
The question on everyone's lips is -- will Khloe Kardashian take another DNA test, to prove that her father is Robert Kardashian?
A source close to the reality star tells RadarOnline.com that at present the 27-year-old has no plans to do so, but Khloe being Khloe, that could change!
The controversy continues to intensify over Khloe's true paternity with neither side backing down. While Kris Jenner was on GMA denying Star magazine's exclusive report quoting Robert Kardashian's ex-wife and widow, Jan Ashley and Ellen Kardashian respectively, the women are standing firm behind their claims.
Article continues below advertisement
Television cameras from E! are currently filming Khloe and Lamar Odom's move to Dallas, but Khloe is currently not planning to take another DNA during the upcoming season of their spin-off show.
"Khloe doesn't want to dignify her step-monster's claims by giving them that much power over the decisions she makes in her life," a source close to the family tells RadarOnline.com. "Khloe took the test the first time on her own terms, and she did it to prove that she was a Kardashian. Khloe feels she took it once, and it's a closed matter. Khloe and Kris Jenner have talked about whether or not she should take another test, this time including one of her Kardashian siblings because her father is dead. However, Khloe is steadfast that Robert Kardashian is her biological father, and Kris supports her decision."
As RadarOnline.com previously reported, Khloe has spent years wondering if she is really a Kardashian and even made it part of her TV show, by taking a DNA test. But, there was one major flaw -- she only tested the maternity with her mother and did no paternity test to prove that Robert Kardashian is her father.
In April 2009, an episode of Keeping Up With The Kardashians aired in which Khloe wanted to prove once and for all she was not adopted, so she took a DNA test.
Article continues below advertisement
But interestingly, she compared her DNA only to her mother's, not Robert's or her siblings, which could have proven conclusively that Robert was not her biological father.
And, as RadarOnline.com previously reported, Robert Kardashian's ex-wife, and widow BOTH claim that he told them Khloe wasn't his biological daughter.
"Khloe is not his kid -- he told me that after we got married," Jan Ashley, 63, the woman who married Robert after Kris Jenner, revealed to Star magazine. "He just kind of looked at me and said it like it was a matter of fact. He said, 'Well, you know that Khloe's not really a Kardashian, don't you?' And I said…'OK,' and that was it."
Ellen Kardashian, 63, married Robert in 2003 just two months before his death, after dating for nearly six years -- and she has also come forward after eight years of silence to "tell the truth" about the Kardashian family.
"Khloe brought it up all the time," Ellen told Star. "She looked nothing like the rest. She was tall, had a different shape, light hair, curly hair. Didn't look anything like the other three children."
Article continues below advertisement
Ellen claims Robert told her that he and Kris weren't even sleeping together at the time Khloe was conceived.
Reports surfaced Wednesday, claiming Robert has spoken about the true paternity of Khloe "from beyond the grave" after a web site posted divorce papers in which Kardashian declared he had four biological children. However, Ellen says Robert always treated Khloe as his own child and would never have referred to her, or treated her, any differently.
"He never would have considered a DNA test," she told Star. "He loved her very much."
Meanwhile, "Khloe just wants these women to shut-up and go away," the source says. "She is focused on getting settled into her new life with Lamar, who has been her rock as always during these past few days. Khloe will be heading back to Los Angeles this weekend, with Lamar, because the Lakers are playing his new team, the Dallas Mavericks on Monday. She just wants to spend time with her family, and go to the game, period."