Exclusive
Could This Man Be Khloe Kardashian's Real Dad? Kris Jenner's Secret 1980s Boytoy Revealed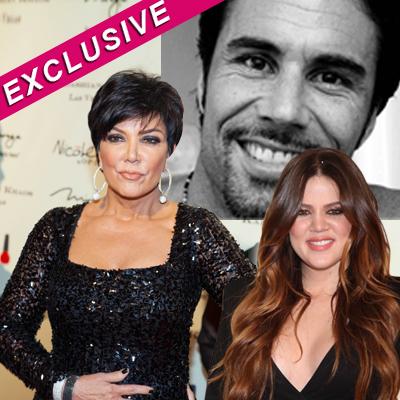 The mystery man that helped destroy Kris Jenner's marriage to famed legal eagle Robert Kardashian can finally be named.
Dubbed "Ryan" by Kris, 56, in her recently released memoir 'Kris Jenner and All Things Kardashian,' Star magazine can exclusively reveal -- via RadarOnline.com -- the true identity of the momager's boytoy, who was just a tender 24 at the time their 1989 tryst began.
He is renowned Hollywood animator Todd Waterman, who told Star in an exclusive interview that he and Kris shared an "intense affair."
Article continues below advertisement
"It was scandalous," confessed Todd. "We dated for a year and a half. I was playing pro soccer and I was training with a team, L.A. Heat, for a now defunct league. That's how we met."
The outing of Waterman is yet another twist in the paternity scandal engulfing Kris' daughter Khloe, who is facing claims from her late father's ex-wives that she isn't a biological Kardashian.
In light of the women's sordid allegations, the showbiz world has been left to ponder who could be 27-year-old Khloe's potential real dad if Robert were not.
While the naming of Kris' secret lover could provoke some to question whether Todd fathered Khloe, it's not possible, as Khloe was aged five at the time her mother, then 34, began seducing him behind her father's back.
Robert, the Hollywood lawyer who worked on O.J. Simpson's notorious dream team during the murder trial of the football star's wife, even named Todd in his and Kris' 1991 divorce documents, filed in the Los Angles Superior Court.
Article continues below advertisement
He slammed Kris, writing in a declaration obtained by Star: "Your honor will recall at the time of the hearing I claimed that the respondent was involved with another man named Todd Waterman.
"I ask the court … to restrain (Kris) from living with any member of the opposite sex in or about the presence of our children."
Todd -- who now directs animated films for Disney and Columbia Pictures -- said while Kris called it a "mid-life" crisis moment, their relationship was far from a passing fling.
In her tell-all book, Kris revealed that she became obsessed with a man she dubbed "Ryan" and admitted having "wild sex everywhere, all the time" in cars, pool houses and even on tennis courts.
"One minute I was making brownies for my friends and having a family barbecue, the next I was in the middle of an insanely intense affair," Kris wrote.
"I would tell Robert I was going out to lunch and I would end up at Ryan's apartment having crazy, fabulous sex for hours in the middle of the day. I would drop Kourtney, Kimberly, and Khloe off at school and rush straight to Ryan.
Article continues below advertisement
"Breakfast, lunch, and dinner with Ryan, Ryan, Ryan, Ryan."
While Todd said he had heard rumors that Kris had exposed her philandering in her memoir, it wasn't until he was contacted by Star this week that he realized the extent of her confession.
"My friend has sent me an excerpt from her book," he told Star. "I think I would be Ryan."
While Todd once shared a passion for one particular Kardashian, Kris' former lover revealed that he is far from a "fan" of the reality television family and the multi-million dollar empire they've built.
"I am not a fan of the whole Kardashian machine," he said.
"To me, it (my partial inclusion in the book) ties into what they have already done in terms of picking and choosing what they release and how they are portrayed."
While not happy about his inclusion in Kris' tell-all, Todd told Star it was to be expected from a family who has used infamy to their advantage.
He said, "The sex tape and the murder of their friend. It (the book) didn't surprise me."
Article continues below advertisement