Exclusive
Khloe Kardashian Betrayed! Husband Lamar Odom's Shocking Night With Strippers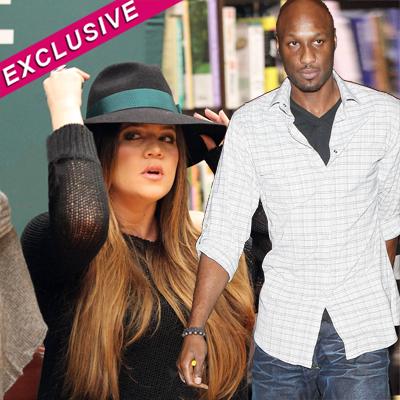 Khloe Kardashian's week from hell has taken another dramatic turn.
The 27-year-old reality star's husband of more than two years, Dallas Mavericks star Lamar Odom, had a wild night with strippers at a notorious Washington D.C. strip club on January 8, RadarOnline.com has exclusively learned.
Multiple eyewitnesses have told RadarOnline.com that Odom dropped hundreds of dollars on dancers and at one point was sprawled out in a dimly lit corner of Stadium Club strip club, a venue that bills itself as a "five star dining and premier gentleman's club experience."
Article continues below advertisement
"Strippers were grinding on him," the onlooker said in an exclusive interview.
He attended the seedy club with Mavericks' teammates Shawn Marion and Delonte West in the hours before the 2011 NBA champions were honored by President Barack Obama in a ceremony at the White House on January 9.
Another club-goer told RadarOnline.com: "Lamar looked to have about 500 one dollar bills in his hand and he gave all of the money to the dancers through-out the night. He made sure the girls were well taken care of. He was throwing money at the women."
At one point, the eyewitness said Odom, 32, even went into a private room with one stripper who was a "Khloe look-a-like!"
"That's where the VIPs go when they don't want to be seen publicly with a stripper," the source at the venue said.
"Lamar disappeared into the back of the venue where the private rooms are. He was there for quite awhile, but eventually came back to hang with the strippers in the main area again. The stripper that gave him most of his lap dances was a complete Khloe look-a-like."
Article continues below advertisement
While Odom cavorted with the women, Khloe was home alone at the couple's swanky condo at the Dallas W Victory Hotel & Residences. That night, she Tweeted: "Thunder in Dallas... And Lammy is in DC. I guess ill cuddle with leopard tonight :) awww my blankey :)"
Stadium Club, in the Langdon Park neighborhood of D.C., offers all-nude lap dances from $40 to as much as $300, including some in private rooms with beds.
Several strip-clubbers posted Tweets about Odom's visit, too.
@IamBentleyEvans wrote, "Oh oh Lamar Odom gon (sic) be at Stadium. Khloe can sleep well tonight. The girls r too pretty and not muscular enough for him."
Another person even Tweeted Khloe to forewarn her that her husband was apparently up to no good.
@Dai_laSoul wrote, "Lamar Odom at stadium n dc ACTING BAD @KhloeKardashian."
It's been a tumultuous week for Khloe, who is facing claims from her late father Robert Kardashian's ex-wives that she isn't a biological Kardashian.
Article continues below advertisement
Jan Ashley, the woman who married Robert Kardashian after he split from Kris Jenner, told the latest issue of Star that Khloe was not Robert's blood daughter.
"Khloe is not his kid -- he told me that after we got married," said Ashley, 63. "He just kind of looked at me and said it like it was a matter of fact. He said, 'Well, you know that Khloe's not really a Kardashian, don't you?' And I said...'OK,' and that was it."
Ellen Kardashian, 63, who was married to Robert at the time of his death in 2003, backed up Ashley's claims.
"Khloe brought it up all the time," she told Star. "She looked nothing like the rest. She was tall, had a different shape, light hair, curly hair. Didn't look anything like the other three children."
However, as RadarOnline.com previously reported, mom Kris Jenner has vigorously denied the two women's claims.