Exclusive
Kim Kardashian Is A 'Homewrecker' Says Kanye West's Ex Amber Rose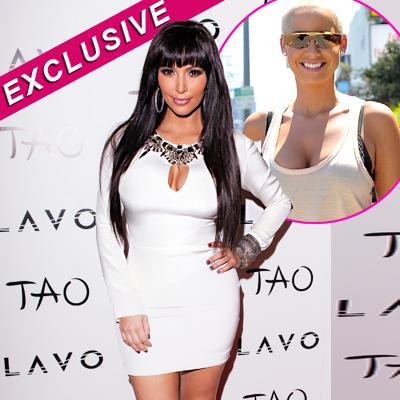 Kim Kardashian has always insisted that she and Kanye West are just friends, but that may not be the truth after all!
In an exclusive interview with Star magazine, Kanye's ex girlfriend, Amber Rose, revealed that the reason she and the singer split was because of the reality star's devious cheating ways.
"Kim is one of the main reasons why me and Kanye are not together," Amber exclusively told Star. "She's a homewrecker!"
Article continues below advertisement
According to Amber, she was dating Kanye when he and Kim first hooked up -- and Kim was dating NFL star Reggie Bush!
"They were both cheating," Amber, 28, said. "They were both cheating on me and Reggie with each other."
Amber says it was Kim, 31, who instigated the whole affair by calling, texting and sending racy photos of herself to Kanye.
"She was sending pictures, and I was like, 'Kim, just stop. Don't be that person,'" but apparently Kim didn't care enough to respond when Amber emailed her for an explanation.
"I thought at least she'd be woman enough to respond to me. She never responded."
Amber slammed Kim for her cheating ways. "It's very important that us women stick together and we don't f**k each other over like that."
However, Amber is current dating Wiz Khalifa, 24, and has credited Kim for helping her find true love.
"I want to thank her," she said about Kim. "Because if she was never a homewrecker, then I never would have met Wiz, and I wouldn't be as happy as I am now."