What Would Khloe Do? Watch The Kardashian Get Punk'd!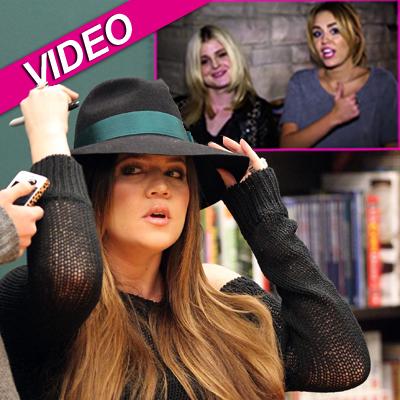 By Amber Goodhand - RadarOnline.com Reporter
Khloe Kardashian finds herself in an awkward predicament when friends Miley Cyrus and Kelly Osbourne prank her on the new season of Punk'd and RadarOnline.com has a sneak peek.
The scene is Miley's house and after ordering some food, the girls set Khloe up so that when the delivery guy uses the bathroom he gets his privates stuck in his zipper.
"Sir, he's caught his balls in the zipper of his pants," Khloe tells the 911 operator, who is of course part of the show.
Article continues below advertisement
To find out how Khloe handles the dilemma, check out the video below.
Noticeably absent is Ashton Kutcher, who will no longer be hosting the hit MTV show, but will instead be hosted by a list of celebrities such as Kellan Lutz, Justin Bieber and Bam Margera.
"There's a new generation of unsuspecting suckers just waiting to be Punk'd by their famous friends, and fans will once again have a front row seat to see the shock on the faces of their favorite celebs," President of MTVN Music Group, LOGO and Film, Van Toffler, said.