Exclusive
Demi Fed Up With Ashton's Cheating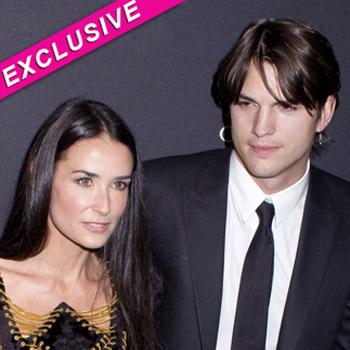 In the wake of yet another cheating scandal, Demi Moore has had enough of her toy boy husband Ashton Kutcher's philandering and is ready to call it quits.
According to an exclusive report in Star Magazine, the May to December marriage is over because of Kutcher's infidelities and the couple have been living apart for some time.
Instead of celebrating his sixth wedding anniversary (which was on September 24), the new star of Two and A Half Men spent last Friday flirting with scantily-clad women at Fluxx nightclub in San Diego, the new issue of Star Magazine exclusively reveals, where he looked nothing like a happily-married man.
Article continues below advertisement
The scandal also comes as Star magazine hits newsstands with a sensational report, revealing the pair's marriage is "officially over" as a result of Kutcher's cheating.
"It was definitely a long time coming, but they're finally done for good," an insider exclusively told Star Magazine.
"Ashton was a serial cheater, and Demi just couldn't take it anymore. She didn't deserve to live that way. It's a painful time for Demi."
After struggling for years to overcome the pressures of their 15 year age difference, Demi, 48, and Ashton, 33, are finally calling it quits, and Star Magazine has the real story behind their crumbling marriage after the weakened bonds holding them together snapped once and for all during the past week.
As RadarOnline.com previously reported, a 23-year-old woman is now accusing Kutcher of cheating on Demi with her during last Friday's booze-filled night out in San Diego with his guy friends.
Article continues below advertisement
Ashton was checking out all the girls when he arrived at the Fluxx nightclub on September 23, an observer told Star, who said:
"He told me that none of the girls were 'hot-tub-worthy.'"
The Punk'd creator eventually zeroed in on sexy blonde coed Sara Leal and according to the TheDirty.com, he later had sex with her at the nearby Hard Rock Hotel, where he told her he and his wife were, "separated, but the public just didn't know yet."
Now Star can exclusively report that Ashton and Demi have been living separate lives for months and have finally given up on saving their six-year marriage.
In fact, the couple were literally living on opposite sides of the country, with Ashton filming Two and a Half Men in L.A. and Demi working on the upcoming film Magic Mike in NYC.
"Demi's finally ready to move on after all these years because she's sick of feeling like she can't trust Ashton," an insider revealed to Star. "Especially as his star continues to rise with Two and a Half Men, he's become really vague about where — and with whom — he spends his time."
Article continues below advertisement
While his latest fling may be the final straw in their marriage, this is not the first time that Kutcher has been caught allegedly cheating.
As Star exclusively reported, 21-year-old Brittney Jones claimed that she had a steamy one-night stand with Ashton last year after she met him at the Lucky Strike Lanes in Hollywood in July 2010, when he was out with Demi and her daughter Rumor Willis.
According to Jones, Kutcher struck up a conversation with her and despite knowing he was there with his wife, she slipped him her number on a cocktail napkin as he was getting ready to go.
A few days later, Jones said the actor brought her back to the sprawling Hollywood mansion he shares with Moore.
They had sex on the couch while Moore was in Detroit shooting a movie. "It was tender and nice," she recalled, "not some random sex act."
It was only when Jones began getting tons of prank calls that she realized Demi had seized the napkin and posted a photo of it on her Facebook page, blasting Brittney, reported Star.