Exclusive
Jennifer Aniston, Alicia Keys And Demi Moore Dish On Boys & Babies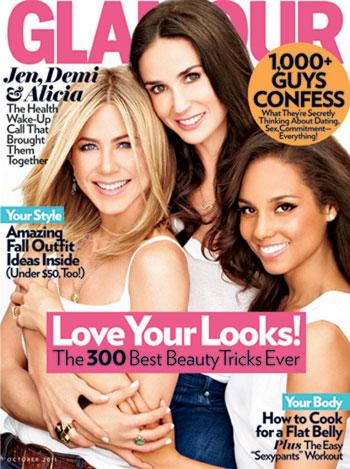 Article continues below advertisement
Jennifer Aniston, who is currently cohabitating with her Wanderlust costar Justin Theroux, explains what she needs in a relationship.
"A human being!" she jokes. "Ok, in all seriousness, I would say I couldn't be in a relationship without equality, generosity, integrity, spirit, kindness and humor. And awesomeness."
And in addition to her "purse monkey" Demi Moore reveals the other secret to getting her giddy!
"I'm an old-school romantic, so I get giddy when Ashton shows me another way of saying 'I love you' any little thought or gesture that's playful or sweet."
Meantime, Alicia Keys, who is married to Swizz Beatz, admits that their son Egypt is the man behind her giddiness, "especially when he laughs".
To read all the interviews with Jen, Alicia and Demi go to the Glamour website, or pick up the October 2011 issue which hits newsstands on September 6 and is available digitally on August 30.