New Book: Jen Aniston Threw Brad Pitt Out After He Confessed Being In Love With Angelina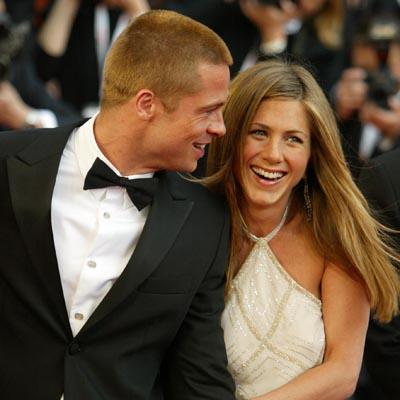 Jen Aniston wasted no time in tossing Brad Pitt to the curb after he confessed being in love with Angelina Jolie, a new book has revealed.
Confidential: The Life of Secret Agent Turned Hollywood Tycoon Arnon Milchan has opened the door on what went down between Hollywood's golden couple after Brad fell for Angie.
Arnon Milchan produced Mr. & Mrs. Smith, and he'd originally planned on Pitt and Nicole Kidman as the leads but there was no chemistry between the pair and Pitt dropped out. Then Milchan decided to go with Angelina Jolie as his Mrs. Smith, and Brad jumped right back into the project, suggesting he may have already been infatuated with her, the authors write.
Article continues below advertisement
The two clicked right from the start.
"At first, Jen didn't believe he was involved with Angelina. She started asking around but no one would tell her anything because they were loyal to Brad, so she asked him point blank. He denied it," the book recounts.
The production, and Brad's PR rep went into full denial mode as rumors of the affair spread through Hollywood.
Brad and Jen then went to the Caribbean with best pals Courteney Cox and David Arquette on a pre-planned trip to celebrate New Years, 2005, and that's apparently where Brad fessed up.
"He eventually admitted he was in love with Angelina. Jen was furious and threw him out," authors Meir Doran and Joseph Gelman write. The outcome, they say, was Jen striking first "by throwing Pitt out."
To keep the press and fans at bay on what was really happening, when the pair returned to Los Angeles, Brad moved into producer Milchan's home.
"Brad drove each day to the set, and everywhere else, on a motorcycle and he wore a wraparound helmet with a tinted visor so no one would recognize him. He stayed with me for the duration of filming," Milchan is quoted as saying.
Article continues below advertisement
Jennifer Aniston – Horrible Bosses, Terrific Outfit
On January 7, 2005, the pair announced their split, and it was Aniston who filed for divorce on March 25 of that year after seeing the stunning first photographs of Brad and Angelina and her son Maddox on a beach in Africa.
Brad and Angelina are still together, and are the parents of six kids. Aniston is now dating actor/writer Justin Theroux.
RELATED STORIES: