Exclusive
Patti Stanger Warns Jennifer Aniston 'Something's Not Right' About Justin Theroux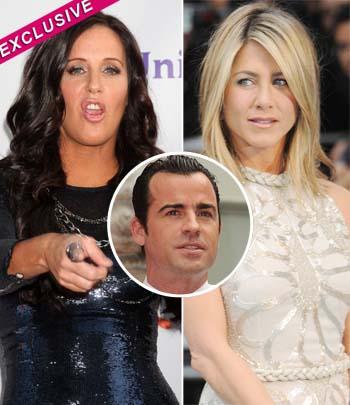 By Alexis Tereszcuk - RadarOnline.com Senior Reporter
Jennifer Aniston and her boyfriend Justin Theroux are hot and heavy, but the ultimate Millionaire Matchmaker has a warning for America's favorite friend: Watch out, because "something's not right there."
Patti Stanger spoke exclusively to RadarOnline.com about Jen's new relationship and while she says Theroux seems good for Jen, she thinks they might need to put the brakes on their relationship.
Article continues below advertisement
"I kind of like him, but here's my problem -- he was with the last girl for 15 or 16 years and one day in walks the girl of his dreams and he says bye, see ya, wouldn't want to be ya! There's a karmic payback for that.
Jennifer Aniston – Horrible Bosses, Terrific Outfit
"He's handsome and he likes her and she likes him, they've got good body language, so it's a matter of what really went down that he jumped ship from this girl he lived with for 16 years, something's not right there."
Theroux, 40, was dating Heidi Bevins before he started dating Aniston, 42, and Patti says this is definitely a surprise coming from the woman who was so scorned by her husband Brad Pitt.
"She b*tched about Angelina stealing Brad from her!"
However, Patti said she's worried that things are going way too fast for the couple.
"This isn't a poor schmuck. This is a guy who produces a lot of movies he's doing major movies this year, he's acted. He can afford to get his own place.
Article continues below advertisement
"That tells me he jumped ship from one girl to the other. Then he moves in with her in LA, now they're looking for a nicer house, it's moving a little too fast.
"I think he had enough money he could have moved out to L.A., he could have gotten an apartment see how it goes and gone slower. She might be moving too fast she might get hurt, burned."
There are reports that Jen might be trying for a baby with her boyfriend and Patti says she could see that happening, all too clearly. "I feel like she might pull the pregnancy card on him.
"Maybe she has, she isn't as skinny as she used to be, she's looking great, and she's glowing."
Overall though, Patti, the new spokeswoman for the ultra cool flavored Pucker Vodka, says she likes Theroux but just not the circumstances under which he hooked up with Jen.
"I hope they work out, I hope this other woman who was left behind finds someone tomorrow. I really feel bad for her. The best revenge would be to go out with his best friend!"