Jennifer Aniston And Justin Theroux's Love Nest Lifestyle, Romantic Dates And Late Night Dinners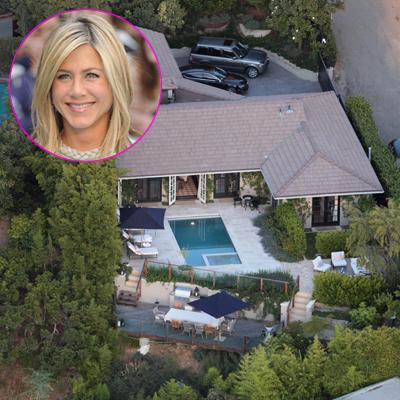 They only signed the lease to their new love nest three weeks ago but Jennifer Aniston and Justin Theroux are enjoying their life living together and RadarOnline.com has the photo of their home sweet home.
Since moving into the two-bedroom rental in the Hollywood Hills the happy couple has made the most of it's ideal location which is just minutes away from Aniston's favorite hot spots, including Chateau Marmont and the Sunset Tower Hotel.
Article continues below advertisement
The Marmont is only a mile away from their $3 million home and on August 24 they were spotted enjoying a late night dinner there with friend, George Lopez.
According to reports the pair cuddled, with Justin wrapping his arm around his girlfriend's waist while they enjoyed their meal.
Uncharacteristically, Jennifer didn't touch a drop of alcohol during the night at the famed hotel, doing nothing to curb the rumors that she is hoping for a baby with Justin.
And Saturday night they were snapped in their car leaving their new home for another evening out together.
Situated high in the Hollywood Hills the cozy rental is a far cry from the $38 million mansion Jennifer sold last month, but that's not to say it doesn't have plenty of charm.
The adorable house is tucked behind a gate and surrounded by lush greenery, giving the couple plenty of privacy.
And it' outdoor area, complete with an ozone pool, jacuzzi and stunning views of the city, is the perfect place for a romantic evening under the stars.
Article continues below advertisement