Ashton Kutcher: 'Charlie's Character Is No Longer With Us'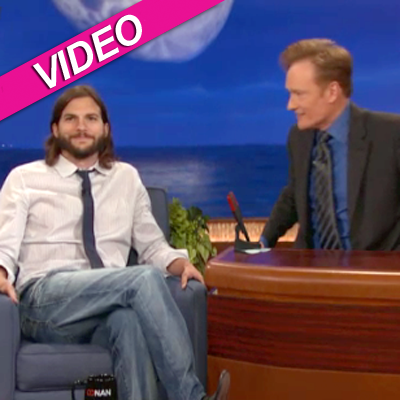 Ashton Kutcher sat down with Conan 'O Brien on Thursday to promote next week's highly-anticipated season premiere of Two and a Half Men.
Kutcher confirmed what everyone pretty much knew, admitting "Charlie's character is no longer with us, and my character is a billionaire."
O'Brien asked Kutcher why he and wife Demi Moore don't have the celebrity portmanteaus name afforded other A-list couples -- think Brangelina, or Bennifer.
Article continues below advertisement
Kutcher said he thinks it's an easier feat to pull off "if one person has a monosyllabic name," like Brad or Ben.
"What about Kutch-Moore?" Conan shrewdly asked.
Kutcher asked O'Brien how he likes his "Coco" nickname, which Tom Hanks came up with.
"It's a good professional wrestler name -- like Koko B. Ware!" Kutcher said, referring to the 80s grappler who carried a bird with him to the ring.
Also up for discussion was the massive trailer Kutcher's been using during the tapings of Two and a Half Men, which he joked is "a little spaceship-y."
MORE ON:
Two and a Half Men
"If I ever have a fight with Demi," Kutcher said, "I'm staying in the trailer!"
"Co-host Andy Richter and I stay there, you just haven't seen us yet," O' Brien joked.
"I've noticed droppings," Kutcher said.
Watch the video on RadarOnline.com
Ashton makes his debut on Two and a Half Men September 19 at 9/8c on CBS – the same night that Comedy Central airs its roast of fired 'Men' star Charlie Sheen.