Ashton Kutcher: 'I'm Not Replacing Charlie Sheen'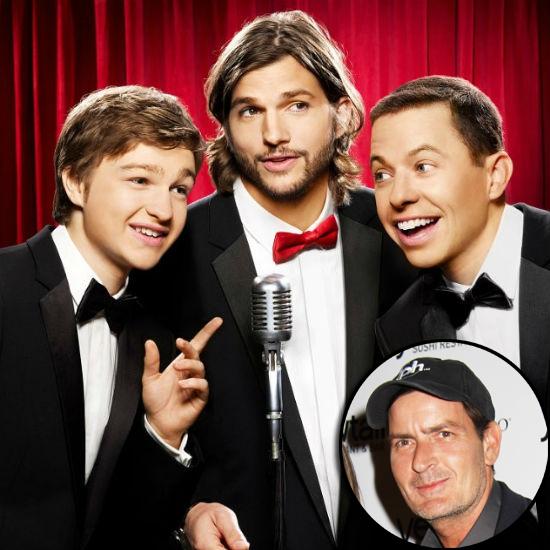 Ashton Kutcher -- who makes his first appearance on the season premiere of Two and a Half Men this Monday -- says he's not trying to fill Charlie Sheen's shoes.
Kutcher -- speaking Thursday to CBS' Early Show co-anchor Chris Wragge -- also said: "I feel like the luckiest guy in the world.
"I just offhandedly mentioned to a friend (that), if they offer me that job, I'd take it," Kutcher said. "It's always sort of nice to jump on something that's already moving and successful and people already have an appetite for. It just seemed like the best job in the world".
Article continues below advertisement
But Kutcher wants fans of the show to know he's not trying to fill Sheen's shoes.
"Here's the thing," Kutcher said. "Charlie was incredible on the show and I can't, there's no way I'm going to replace Charlie Sheen. I'm not playing his character. But it's the same people that have been making people laugh the last eight years are going to keep making people laugh."
Kutcher admitted to being somewhat nervous at his first taping of the show. He told Wragge: "I was just trying to remember my lines. The audience was pretty teed up, so it kind of felt like it really didn't matter what I did. People were just happy to have the show back."
When asked why he sports a beard for the character, Kutcher said it's "a bit of a Jesus thing," saying with a laugh, "Well, in the first episode, I am resurrected from the dead so ... it should be interesting."
(On the show, Kutcher plays Walden Schmidt, an Internet billionaire with a broken heart).
With all the behind the scenes drama involving Charlie Sheen, Wragge asked if Kutcher had any apprehensions.
Article continues below advertisement
"I had apprehensions for several reasons. I have a relatively successful film career, and I knew it would shut down that for a minute. I had a little apprehension about that because, when you have a good thing going, you don't want to put the pause button on it."
The new season of Two and a Half Men premieres Monday, September 19th – the same night that Comedy Central airs its roast of Charlie Sheen.