Ashton Kutcher Gets Naked On Ellen!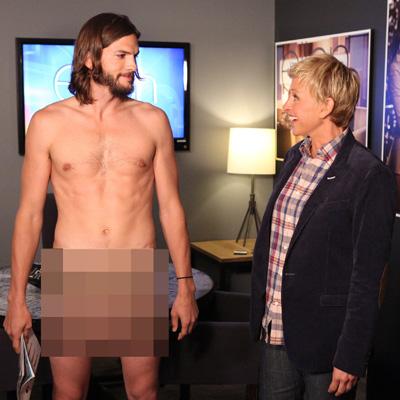 And you thought Matthew McConaughey couldn't keep his clothes on.
On the heels of Two and a Half Men's "All Will Be Revealed" promotional campaign, Ashton Kutcher is stripping once again -- this time, for Ellen DeGeneres!
Kutcher, 33, appears on Ellen's season premiere show Monday, September 12 and does the interview nude!
"We're going to start pretty soon, so maybe you want to change?" Ellen asks Kutcher, who was wearing only a robe when she greeted him in the show's green room.
Article continues below advertisement
"Oh no, I'm ready," Kutcher answers. "This is it. The Two and a Half Men ad is getting a lot of attention, so I just figured I'm going to do everything nude from now on."
And yes -- he then drops his robe!
"I don't know if that's a good idea," says Ellen.
Whatever I'm doing, I'm just going to do it nude," Kutcher replies. "Let's do this!"
The new season of Two and a Half Men premieres Monday, September 19th.
MORE ON:
Two and a Half Men