Jon Cryer On Charlie Sheen Drama: "I Never Want To Go Through That Again"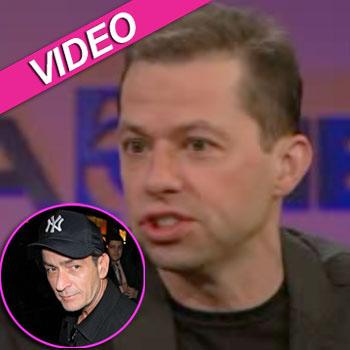 Two and a Half Men star Jon Cryer -- speaking about the drama surrounding Charlie Sheen's firing from the hit CBS show -- said Tuesday "I never want to go through that again.
"It was an awful thing to be a part of," the 46-year-old actor told the KTLA morning show in Los Angeles. "I'm glad that some peace has come out of it."
The six-time Emmy nominated actor says he was "surprised with everything that went down" relating to Sheen's abrupt departure from the show and his very public feud with show creator Chuck Lorre.
Article continues below advertisement
"There's so many fans of the show," Cryer said. "It's important for us to keep giving them that."
As for co-star Ashton Kutcher joining the cast, Cryer says the two have great chemistry.
"Ashton was amazing," Cryer told the anchors of working with Kutcher, who just taped his first 'Men' show. "He took the roof off the place. The man works hard for the money. It's a lovely vibe."
Cryer also told the anchors "his (Kutcher's) wife (Demi Moore) and I did my first movie together - when he was seven," to which the anchors busted out in laughter.
Cryer, who will be receiving a star on the Hollywood Walk Of Fame later this year, was mum on details of the new season especially how Sheen's character Charlie Harper dies, but he did say "it's funny."
Be sure to check out the new season of Two and a Half Men which premieres September 19 on CBS -- the same night Sheen is roasted in a Comedy Central special.
Watch Cryer on KTLA below:
RELATED STORIES: