Ashton Kutcher Earns Standing O At First 'Men' Taping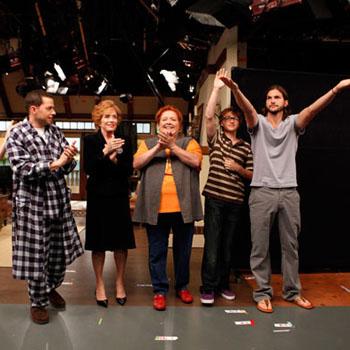 The new Charlie Sheen-less Two and a Half Men is off to a rousing start.
The taping of the first new season episode ended Friday night with a standing ovation for Ashton Kutcher and all the returning cast members.
Kutcher, Jon Cyrer, Angus T. Jones, Holland Taylor, Conchata Ferrell and Marin Hinkle all took their individual bows -- with the audience going wild for Ashton -- before lining the stage for the traditional group moment.
Article continues below advertisement
The first episode features Charlie Harper's funeral -- there's no coming back for Sheen -- and the introduction of Kutcher as internet billionaire Walter Schmidt, who buys Harper's Malibu house.
All of the costars, who had their weeks of fearing unemployment if their series had been canceled because of Sheen's meltdown, seemed thrilled to be back at work and energized by Kutcher.
He is someone who "is committed to doing their job and is incredibly professional," said CBS Entertainment president Nina Tassler.