Ashton Kutcher Ready For Battle; Ready For Primetime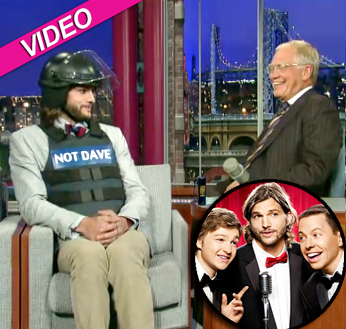 By Adam S. Levy - RadarOnline.com Staff Writer
Terrorist threats? Just grist for the mill for prank-lover Ashton Kutcher.
The Two and a Half Men star emerged wearing a bulletproof vest and a helmet for his appearance on Wednesday's edition of The Late Show, after host David Letterman was threatened by Muslim extremists last week.
"I gotta watch it man, you can't be too careful sitting next to a guy being fatwa-ed," Kutcher said.
Article continues below advertisement
During his appearance, Kutcher talked about his new role on Two and a Half Men playing Walden Schmidt, a young billionaire computer entrepreneur.
Pressed by Letterman to reveal how Charlie Sheen's character will be killed off, Kutcher stayed mum to the disappointment of the host and the crowd.
"I really like this job, this is an amazing show!" Kutcher pleaded. "It's the same show ... maybe the dynamics have shifted a little."
Watch the video on RadarOnline.com
Letterman asked Kutcher about how he gets along with the show's creator Chuck Lorre, whose fallout with Sheen paved the way for Kutcher to join the cast of the top-rated CBS comedy.
"How about Chuck Lorre, is he nuts?" Letterman asked the hubby of A-lister Demi Moore.
"He's not nuts at all, he's perfectly sane," Kutcher said of Lorre. "He's a great guy and really creatively collaborative."
Asked about Sheen, Kutcher said he watched many of Charlie's media appearances and web casts through his March meltdown, crediting his predecessor on the sitcom as a "lingual genius."
Two and a Half Men premieres September 19 at 9/8c on CBS.