Charlie Sheen: 'I Would Have Fired My Ass Too'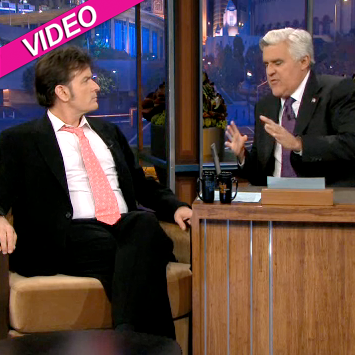 By Adam S. Levy - RadarOnline.com Staff Writer
In wake of his "Torpedo of Truth" tour, Charlie Sheen appears to have embarked on a new one -- a "Mea Culpa" tour.
The 46-year-old actor, who was fired from the most lucrative gig in TV history this past March after publicly feuding with Two and a Half Men creator Chuck Lorre, told Jay Leno Thursday that Lorre and the CBS execs had full justification to let him go after a chain of self-destructive events that led to his unprecedented media blitz that month.
Article continues below advertisement
"I would have fired my ass too -- well, maybe not like they did," Sheen said. "It is what is is. It was bad and I own my part in that, and I just want to make everything right."
Asked why he would have fired himself, Sheen admitted he "should have been a little more responsible about the condition I was showing up in."
Sheen said he's tried to talk to his old bosses at CBS, but they wouldn't return his phone calls.
"I wouldn't return my phone calls either," Sheen joked.
Asked what advice he'd give to his replacement Ashton Kutcher on the top-rated comedy, Sheen said, "It's hard to give advice to a guy that accomplished.
"I would just give him a hug and just say, 'Make me proud, dude.'"
At one point, things got a tad touchy between Leno and Sheen, who brought up Jay's controversial 2010 takeover of The Tonight Show from Conan O' Brien.
Article continues below advertisement
When Leno asked Sheen when the precise moment was he realized he'd screwed up big time, Sheen responded, "It was the day I got fired ... yeah, the day I got fired from my big television show ... I thought I could come back -- kinda like you did!"
"Yeah, yeah at least one of us got the job back," Leno said, returning the fire.
Sheen compared his aforementioned media blitz -- which included some amazing exchanges with RadarOnline.com -- "a runaway train that I was the reluctant conductor of -- and it just kept going.
"I said some things that were a little out there ... I might have overshot the mark a little bit. But these were just metaphors. I didn't really believe I had 'Tiger Blood' or 'Adonis DNA.' These were just jokes."
Later, Sheen joked he's "out of slogans."
On an up note, Sheen said his relationship with his father, actor Martin Sheen, is "totally repaired," and that he and ex wife Brooke Mueller are on better terms, as well.