Exclusive
RADAR EXCLUSIVE VIDEO INTERVIEW: Charlie Sheen: I'm Not An Addict, The Show Will Be Back & My Father Is Wrong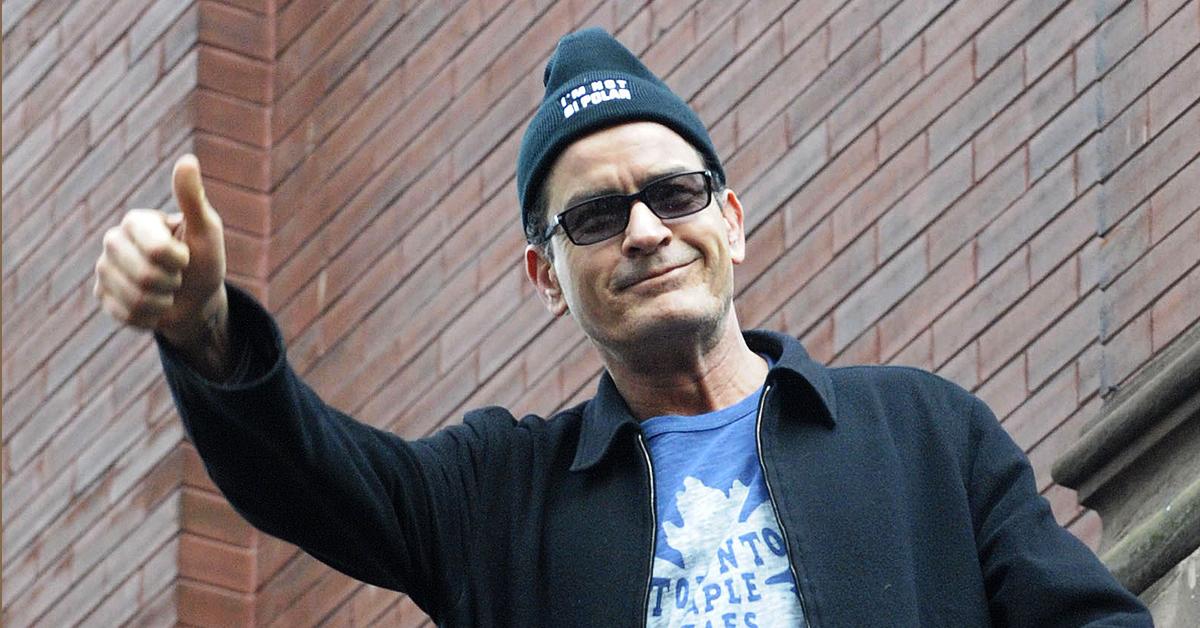 Charlie Sheen takes aim at his screen legend father's recent comments comparing addiction to cancer, vows there will be another season of Two and a Half Men and states unequivocally that he is not a drug addict in a candid and powerful world exclusive video interview with RadarOnline.com.
Article continues below advertisement
What's more, Sheen ratchets up his attack on show producer Chuck Lorre and CBS, calling him a tyrant and bully while claiming the network has not protected him despite the fact it has earned a multi-billion dollar fortune from his talents.
The star invited RadarOnline.com into his Los Angeles mansion on Saturday for his first interview and accepted our challenge to prove to the world that he is not using illicit or prescription substances, taking several different types of drug tests.
He then sat for a no-questions-off-limits interview with RadarOnline.com's Senior Executive Editor Dylan Howard.
"Jeez, dad… shut it!" the 45-year-old says when asked about his reaction to Martin Sheen's recent interview in which he compared Sheen's addiction to cancer.
"Okay, Pop walk through a cancer ward right now and find any of those mother f*ckers who look like me," he adds, clearly agitated.
He bristles about his father's comments: "Sounds poetic but it's rooted in bollocks."
Article continues below advertisement
Directly addressing the issue that has all of Hollywood talking, Sheen tells RadarOnline.com's Howard that he does not believe he is an addict.
"No. No, I don't, because that's a word and a thing that they tried to stick on me for 22 years. 5 per cent success. 100 per cent success. Do the math. Look at the scoreboard. The numbers don't lie," he says, tying the term "addiction" back into his recent rejection of Alcoholics Anonymous.
Probed further by Howard about what he thinks addiction is, Sheen responds: "I don't know, I don't care, I just know it's not a part of my brain today."
About being clean today, the actor says: "It's just a choice I'm making today. Just a choice."
Pressed why he made that "choice," Sheen declares: "I feel better. I got bored with those other things. It was time to do something different and I had this epiphanous moment of 'I'm 45 with 5 kids' and it was time to explore some different realities."
Article continues below advertisement
One reality he is exploring is Two and a Half Men being shut down for the rest of the season – with its future beyond that in doubt.
Sheen vows to RadarOnline.com that the show will be back – one way or another.
Asked if there will be a Season Nine, he replies: "Absolutely and it's going to be brilliant. Because we're going to do it differently. Watch me."
Sheen concedes he has not spoken to CBS or Warner Bros. recently and attacks his bosses at those organizations, claiming they have treated him like "an unwelcome guest for eight years."
Asked in what sense he has been treated this way, Sheen says: "Just that anything I do, any condition I show up in, if it doesn't fit into the realm of their judgment then it's not good enough or it needs to be questioned."
Howard asked the star if he ever showed up for work unfit.
AUDIO: 911 Call: Doc Says Charlie Sheen 'Very, Very Intoxicated'
"Unfit is uh… unfit. I don't know, I think that would depend on how they saw me," Sheen answers. "I never missed a mark or blew a line, I know that. I was maybe tardy a couple days but, so my plane was delayed, you know?
Article continues below advertisement
"But as far as showing up in any condition, real or imagined, I'm an absolute pro and I deliver the goods and, don't do the crime if you can't do the time."
The no-holds-barred interview will leave Hollywood in no doubt that Sheen is clearly ready to continue his war with CBS and Warner Bros and show co-creator Lorre.
"They did not rush to my aid," Sheen says of CBS.
EXCLUSIVE VIDEO & PHOTO: Martin Sheen Visiting Charlie At The Hospital
"They've not protected me. They've not said 'Mr. Lorre I'm sorry you're a clown, bye bye. We're taking care of dude because he's a rock star, a legend.'
"Why isn't anybody like rushing to my aid, rushing to protect me, rushing to protect their most valuable commodity? The guy they say - the guy who Peter Roth (President) says, 'he keeps the light on at Warner Bros.'"
Sheen's legendary lifestyle includes dating porn stars -- Bree Olsen, or 'The Rach' as Sheen calls the 23-year-old sat off camera, with other women in his harem nearby -- and the star tells Howard that nobody has the right to judge him.
Article continues below advertisement
"As (Marlon) Brando says to my dad in Apocalypse (Now), 'You have the right to kill me, you do not have the right to judge me.' There you go," he says.
Asked about his co-stars and crew losing their salary, the actor reflects: "Well I feel bad but it's not my fault so I'm not going to make any apologies."
He says he has spoken to Jon Cryer and also Angus T. Jones' mother.
"They understand it," Sheen insists about his current stalemate. "They're sad, they're upset. But then once I give them a little back story they're like, 'Wow, we did not know that.'"
Sheen did acknowledge that he was pressured by others to clean up his act, before the show was shut down.
Asked if his decision to change his lifestyle was forced upon him, Sheen tells RadarOnline.com: "I had already made it and then it was brought into the fold quicker by others and it's fine, because I was the only guy in my life that could have delivered that kind of power to solidify it… when the suits rolled in, you know."
Article continues below advertisement
And he refuses to be lured into stating that he will NEVER return to his previous lifestyle and will stay "clean."
Howard: "When you said you make a choice to be clean, do you think, looking ahead at Sheen's future, that you'll make a choice not to be clean? Or is this a life decision?"
Sheen: "I don't know. We're not there yet, I'm just right here, right now. Yeah, I have no interest in it. "
Other highlights of the video interview include:
* Sheen attacks CBS and Warner Bros. for shutting down his show, citing his conduct and condition: "My conduct is bitchin', my condition is perfect so… I don't know what they're talking about."
* He reaffirms that he has a show that may land on HBO, saying: "There's a couple of companies who want it badly, it's in a bidding war and of course they don't want to do anything that's going to undercut their power."
Article continues below advertisement
* He insists he is still a bankable star and says he is deluged with offers: "The five films I've been offered in the last like 8 minutes. I could entertain the 14 book deals I've got sitting on the table. I'm not going to be sitting around."
* The actor also revealed two new tattoos. One is a "C" on his right wrist that represents one of his acting heroes, George C. Scott, and amovie he did called Hardcore, the other reads Death From Above across his stomach, which is a reference to Apocalypse Now, the 1979 war film starring his father Martin.
Sheen says he was going to make up for lost wages for cast and crew but can't afford to now.
"I was going to but then they took all my money, so I can't do that right now," he says, adding: "But if the time comes and this thing still isn't fixed I will do my best."
Sheen continues his attack on Lorre, the writer/director/producer who also created The Big Bang Theory and Mike & Molly: "Maybe if he wasn't focusing on three shows, two that suck, and one that is like everybody's favorite... he's off focusing on turds one and two, and it's like wait a minute man, we're the reason those shows exist or have an audience, we launched them."
Article continues below advertisement
He also says he's ready to return to work, however, Lorre or his colleagues haven't written new scripts.
"Let's put this thing back in motion," Sheen says he told his bosses, adding: "I was told there were no scripts. You stare at me like I stared at them. There are no scripts. What does that mean?"
Sheen says CBS top honcho Les Moonves, the network's President and Chief Executive Officer, called at one point and complimented the star.
"Les called me outside of Mr Chow's, his cleanup hitter, he said "You're my cleanup hitter", I'm in perfect shape and sitting on the bench. I got prepared, and now they're unprepared," Sheen says.
The fight against Lorre, CBS and everyone else in his way, will go on, Sheen vows, sometimes lapsing into the violent Me-Against-the-World rhetoric that has characterized his recent comments.
Watch the entire interview for the most comprehensive view of what has become Hollywood's greatest power struggle in recent memory.
Article continues below advertisement