Exclusive
EXCLUSIVE: Two And A Half Men + One (Supporting) Woman: Charlie's Co-Star Holland Taylor Stands By Troubled Star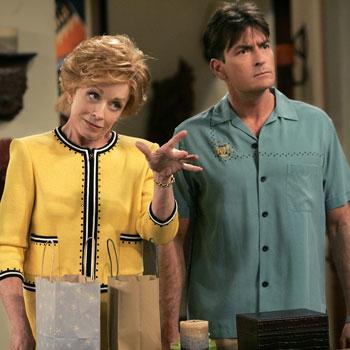 Cast and crew of Two And A Half Men are reportedly "angry" at the news that a number of upcoming episodes have been cut in light of Charlie Sheen's hiatus from the hit sitcom.
But if that is the case, it's happening behind the scenes as Charlie's cast mates refuse to bash him publicly.
In fact, Holland Taylor, who plays Charlie's acid-tongued on-screen mother, Evelyn Harper is standing firmly by the actor, telling RadarOnline.com: "All I can say is that I have the highest regard for the people working-on and producing the show and for Charlie's well being too."
Article continues below advertisement
Meanwhile, fellow co-star Conchatta Ferrell is remaining tightlipped, telling RadarOnline.com that she had 'no comment' to make on Sheen or the popular CBS show at this nervy time.
However, the show's creator Chuck Lorre was a little more forthcoming with his own feelings, posting a personal statement mocking the star's drug and porn filled lifestyle.
RadarOnline.com revealed how the producer posted a personal statement on Monday joking about Sheen.
Fans of the show are familiar with Lorre's so-called 'vanity card', a statement containing his personal rant, that is only on-screen for a few seconds. The comment this week was directed at Sheen, the star of his show.
"I exercise regularly. I eat moderate amounts of healthy food. I make sure to get plenty of rest. I see my doctor once a year and my dentist twice a year. I floss every night. I've had chest x-rays, cardio stress tests, EKG's and colonoscopies. I see a psychologist and have a variety of hobbies to reduce stress. I don't drink. I don't smoke. I don't do drugs. I don't have crazy, reckless sex with strangers."
"If Charlie Sheen outlives me, I'm gonna be really p***ed."
RELATED STORIES: