Charlie Sheen To Chuck Lorre: 'You're A Stupid, Stupid Little Man... A P*ssy Punk'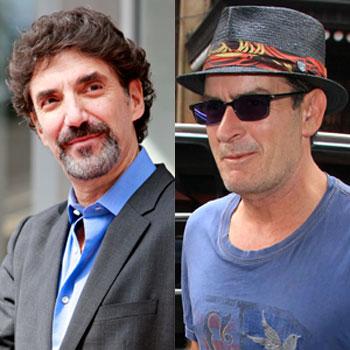 Two and Half Men creator Chuck Lorre says he's not making any comment "right now" about Charlie Sheen — the out-of-control Hollywood hell-raiser who has launched yet another attack on the man who effectively controls his $2 million an-episode job.
In another shocking rant from the tropical island where he is holidaying with a porn star and model, the 45-year-old train-wreck said he "violently hated" Lorre and called him a "stupid, stupid little man and a p**sy punk that I'd never want to be like".
Article continues below advertisement
"This is a battle he and his ego won't win," the top-level source told RadarOnline.com.
"Chuck is a powerful force at Warner. Bros, he gets what he wants and that is why production was shut down because of Charlie."
Sheen, who insisted Thursday that he was still sober, has even begun calling the top-rating CBS program "MY SHOW" in a move that has stunned his colleagues.
"All these guys told me to 'clean it up'," Sheen said, adding: "Well this is me cleaning it the f**k up."
Article continues below advertisement
"All I want is to bring my family together, and I have to deal with all this B.S. politics."
"That piece of s**t Lorre took money out of my pocket, my family's pocket, and, most importantly, my second family -- my crew's pocket."
Sheen's powerless spokesman, Stan Rosenfield, told the Associated Press his star client planned to be on the set Tuesday.
The internationally syndicated comedy went on hiatus last month after Sheen sought rehab for undisclosed reasons after a recent tumultuous period in his checkered life, including three hospitalizations in three months.