Exclusive
EXCLUSIVE: Charlie Sheen Spent $500K On Hookers & Drugs In Last 6 Months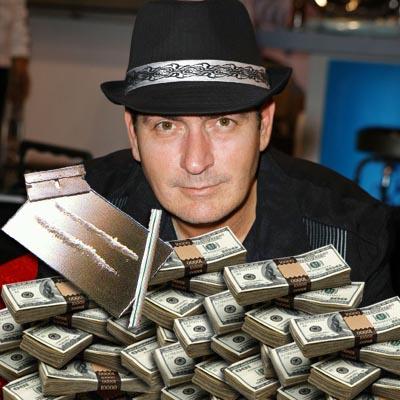 Charlie Sheen spent more than $500,000 on escorts and drugs in the six months before he checked into rehab, RadarOnline.com is exclusively reporting.
The troubled Two And A Half Men star was said to have consumed mountains of cocaine and other drugs as he partied uncontrollably, according to sources within Sheen's inner circle.
"He spent a fortune... his preference is to smoke the cocaine," a close friend told RadarOnline.com.
Article continues below advertisement
SEXY PHOTOS: Charlie's Porn Star Bree Olson
What's more, the 45-year-old womanizer spent tens of thousands of dollars showering hookers with lavish gifts -- including buying some vehicles -- and even paying to fly them around the United States on private jets to spend time with him.
The star was ordering up to an ounce of cocaine at a time and would often go on Ecstasy binges while adding methamphetamine to the potentially lethal cocktail.
"Charlie had a seemingly endless supply of eight-balls," said one source.
An 8-ball is slang for one eighth of an ounce of cocaine (approximately 3.5 grams) and is widely recognized as enough for one person to overdose on.
EXCLUSIVE VIDEO & PHOTO: Martin Sheen Visiting Charlie At The Hospital
"Charlie's nightly habit would be tens of thousands of dollars of drugs and two girls," said one pal.
"He would typically pay them $5,000 to $10,000 for the night and would give them cash, check or money transfer.
Article continues below advertisement
"He even bought two girls cars."
RadarOnline.com's revelations establish the true scale of the tragic star's habit after he checked into rehab on Saturday following a cocaine-fuelled 36-hour bender that landed him in hospital and rehab.
Sheen would also guzzle expensive booze including bottles of red wine worth more than $10,000 a pop!
The Tinseltown train-wreck, who earns $2 million an episode from CBS, partied with XXX stars Kacey Jordan, 22, Melanie Rios and GiGi Riversia, both 19, as RadarOnline.com was first to report.
We've also established the fourth adult film actress with him was Shyla Jennings.
"GiGi was one of the girls who were at Charlie's house when 911 was called," said one source.
"Charlie had previously bought her a convertible Mustang worth $17,000 and on another occasion, he paid another girl who only saw him once, an $8,000 BMW."
RELATED STORIES:
EXCLUSIVE: Martin Sheen Convinced Charlie To Check Into Rehab