Exclusive
EXCLUSIVE DETAILS: Charlie Sheen Was Really Living The Playboy Life In Las Vegas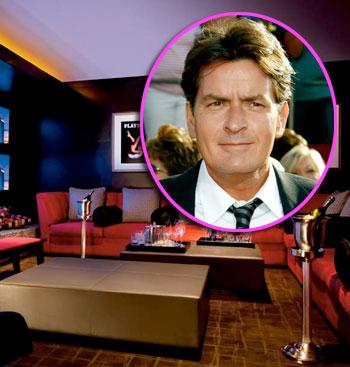 There's no doubting it, when it comes to living a Playboy lifestyle, Charlie Sheen can give even Hugh Hefner a run for his money!
As RadarOnline.com previously reported the Two And A Half Men star spent the past weekend partying hard in Las Vegas with a bevy of porn stars.
And it seems that Charlie certainly gets an A+ for doing it in style, as RadarOnline.com can reveal exclusive details regarding his hedonistic, decidedly X-rated weekend festivities.
Article continues below advertisement
The 45-year-old actor was holed up in the swanky Hugh Hefner Sky Villa inside the Fantasy Tower at the Palms Casino Resort.
The 9,000 square feet, two story suite provided plenty of room to party for Sheen and his friends as well as catering to their every whim.
The suite, which rents for around $40,000 per night, holds up to 250 people, and boasts an extensive collection of Playboy artwork selected by Hugh Hefner himself, an outdoor terrace with cantilevered Jacuzzi tub, personal massage room, dry sauna and an eight-foot, round, rotating bed with mirrored ceiling.
And according to a well placed source that had the pleasure to witness Charlie in action, he really made the most of all the adult-friendly amenities that the suite and the hotel had to offer.
"It was vintage Charlie all weekend," the source says. "When he was married to Denise, and then to Brooke, he really did try his hardest to curb his natural wild instincts, but now it's all gloves off.
"The suite was the perfect party place for Charlie. He had a revolving door of gorgeous women, porn stars and Vegas elite coming and going throughout his stay, total party central.
Article continues below advertisement
"Charlie has a way with women, for sure, and within minutes of arriving the girls were stripped off and in the Jacuzzi. There was a constant flow of alcohol arriving from room service and basically, the party didn't stop... 24/7.
"Charlie hardly left his room, he was basically holed up the entire time, with the exception of a couple of forays down to the hotel bar.
"He was definitely in full party mode and it looked like a bomb had hit the suite. There were empty bottles strewn all over and all manner of adult-related items left around, especially in the massage room and bedroom.
"I don't envy the cleaning staff that had to go in there when he checked out this morning that's for sure!"
A second source confirms Charlie's hard partying, telling RadarOnline.com that he had a "revolving door" of porn stars in his room.
EXCLUSIVE DETAILS AND PHOTOS: Charlie Sheen's New Year Celebration – Flew To Porn Star Lover's Hometown
"Charlie is partying hard. This looks like New York all over again," the source tells RadarOnline.com, alluding to Sheen's infamous night with adult star Capri Anderson late last year. That night ended with cops called to Sheen's hotel room and the star taken to a local hospital after going bonkers.
Article continues below advertisement
"Charlie went there specifically to see the porn stars he stays in touch with," said the source. The Adult Entertainment Expo was held this past weekend in Las Vegas.
"Sheen didn't do a meet-and-greet, that's for sure," the source laughed. "But he was with a lot of the porn stars in his room and he's out of control again."
Guess someone needs to tell Charlie that what happens in Vegas doesn't always stay in Vegas!