Exclusive
Charlie Sheen Files Extortion Lawsuit Against Porn Star Capri Anderson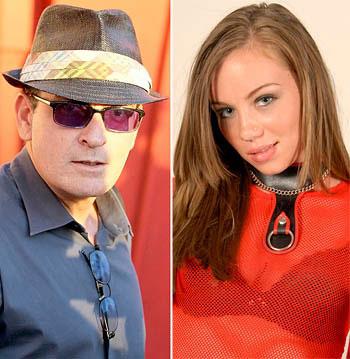 Charlie Sheen filed a lawsuit Monday for extortion and two other counts against the porn star who claims he tried to choke her during a bizarre meltdown in a New York hotel last month.
In the lawsuit, which you can read here on RadarOnline.com, Sheen alleges that Christina Walsh, aka Capri Anderson, demanded $1 million from the Two and a Half Men star to keep quiet. The suit also alleges that Walsh works as a prostitute.
Article continues below advertisement
DOCUMENTS: Read Charlie Sheen's Lawsuit Against Porn Star
Sheen's lawsuit was filed by L.A. power attorney Marty Singer and says Walsh engaged in "an attempted shakedown and extortion of the internationally known actor and celebrity Charlie Sheen."
She is described as "an opportunistic pornographic film star and publicity hungry scam artist".
Singer told RadarOnline.com exclusively: "Charlie is not a litigious person however on this matter he decided he needed to put his foot down based on this outrageous conduct. You don't tell police that Mr. Sheen acted like a perfect gentleman and then demand $1 million before you go to the aspen DA, or $500,000 before you go on Good Morning America." Those extortion allegations are detailed in the court papers.
Sheen's suit, filed in Los Angeles, adds another dimension to a tumultuous day that included Walsh appearing on ABC's Good Morning America and alleging that Sheen threw a lamp at her, used racial slurs, snorted a white powder and generally went out of control, including putting his hands on her neck. Walsh also filed a complaint with New York police and announced she is suing Sheen. She appeared with her lawyer who confirmed the lawsuit against Sheen would charge battery and false imprisonment.
Article continues below advertisement
But Sheen's suit contains explosive allegations against Walsh and her attorney. The lawsuit reads that "after a consensual encounter with Sheen in the Plaza Hotel on the evening of October 25, 2010 Walsh decided this was her chance to become rich and famous."
His lawsuit suit claims Anderson "fabricated a sensational tale about being assaulted battered and held against her will and used that fictional story as a basis for an extortion plot against Sheen, threatening that if he did not pay her at least one million dollars she would go to (i) the Aspen District Attorney with her false allegations and (ii) seek to embarrass him and attempt to damage his career by going to the media with her false tale."
Walsh contacted the Aspen District Attorney, according to Sheen's suit. Sheen was on probation in Colorado stemming from his Christmas arrest on domestic violence charges against then-wife Brooke Mueller. The DA took no action.
But Walsh told others that she was not "assaulted, battered or held against her will," by Sheen, the lawsuit alleges and that Sheen acted like a "total gentleman."
When the Aspen DA took no action against Sheen, Walsh lowered her demand to $500,000 and her attorney contacted Sheen's lawyer. "Sheen intends to expose Walsh for the fraud she is," the suit says.
Article continues below advertisement
Sheen's lawyer held nothing back in the suit, charging: "Though Walsh was working in the pornographic film industry in Los Angeles the past several years, Plaintiff is informed and believes and based thereon alleges that Walsh had fallen on hard financial times and recently started earning money as an escort and a prostitute in New York."
The actor also charges Walsh with stealing his $165,000 Patek Phiippe watch and giving it to someone else to hold. As for Walsh locking herself in the bathroom, Sheen's side is "Walsh was the one who locked herself in the bathroom and refused to come out apparently because she was afraid Sheen might find the watch on her."
Walsh retained an attorney the day after the hotel incident, according to Sheen's suit and on October 28 that lawyer contacted Sheen's attorney to discuss an "urgent matter. During a subsequent conversation Walsh's attorney asked for $1 million and said Walsh was going to contact the Aspen DA and go on national TV "unless Sheen paid her."
Her attorney said Walsh could be persuaded not to contact the Aspen DA or go on TV in exchange for money, Sheen's suit charges. Her attorney contacted Sheen's lawyer again on November 19 and said that Walsh was going to conduct an interview with Good Morning America on November 20 and level charges of asault, false imprisonment and battery against Sheen. The lawyer said she would drop those plans for $500,000 according to Sheen's suit.
Article continues below advertisement
Anderson said she had been hired for $3500 to join Sheen for dinner on October 25.
She called "absolutely untrue" reports that she expected to be paid for sex.
In response, Sheen wants compensation for the $165,000 diamond encrusted watch he claims Anderson stole -- and damages.
In response, Anderson's attorney Keith Davidson told RadarOnline.com: "This is not surprising, there is absolutely no extortion by Ms. Anderson or anyone on her behalf. This is just a diversionary tactic by the fraternity house that is Charlie Sheen and his team. In the same breath, Charlie Sheen is claiming that Ms. Anderson stole his watch, but then miraculously, he offers her $20,000 the day after she allegedly took it."