Exclusive
EXCLUSIVE: Charlie Sheen Nervous Over His Porn Star's TV Interview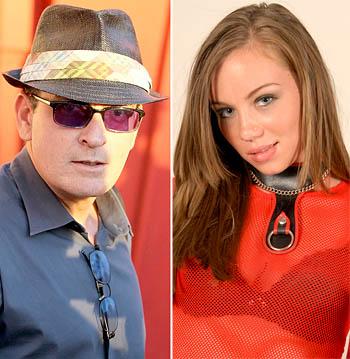 Charlie Sheen is nervous and has been seeking advice and feedback about the TV interview given by porn star Capri Anderson, who spent an infamous night with the Two and a Half Men star.
RadarOnline.com learned that Sheen phoned several friends and people close to him in recent days to talk about Anderson's Monday interview with ABC's Good Morning America.
Anderson had a ring-side seat for one of Sheen's classic party overdoses, when he was taken to a New York hospital after snorting and smoking cocaine and drinking during a crazed night with the porn star and others.
Article continues below advertisement
Anderson was found locked in the bathroom of Sheen's hotel room. She had sought refuge there when Charlie freaked out over his missing wallet, accusing her of stealing his money. and then trashing his suite.
Charlie Sheen Tests Positive For Cocaine After Hotel Meltdown
"Charlie was definitely worried when he heard she was going to talk on national TV," a source told RadarOnline.com. "He called several people and asked for feedback. He was going over what happened and how he handled it and wondering and asking if he should have handled the aftermath differently."