Exclusive
EXCLUSIVE: Charlie Sheen's Porn Star Told Denise Richards: I'm A Prostitute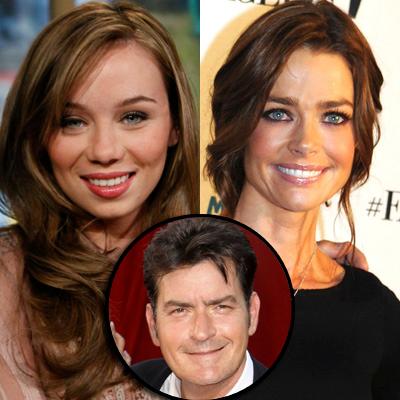 Christina Walsh - aka porn star Capri Anderson - confessed to Denise Richards that she works as a prostitute the night Charlie Sheen went on a crazed rampage in a New York hotel, RadarOnline.com is reporting exclusively.
Walsh was promised $3500 for her night with the Two and a Half Men star, an amount she called an "appearance fee" during an interview on Good Morning America on Monday. Walsh also says she was never paid for her encounter with Sheen.
Article continues below advertisement
Walsh told Richards that she was now working as a prostitute and the two women had a lengthy conversation about that, several sources close to the situation told RadarOnline.com.
"Denise was asking her questions about her life as a prostitute," one source told RadarOnline.com.
Denise was simply being nice and polite to Walsh, sources confirmed. But in truth she was appalled by the situation.
The conversation took place at Danielle restaurant, where Richards briefly joined Sheen and several of his buddies who also had Walsh-like dates the night of October 25.
While Sheen's party was in a private room, many people were entering and leaving it, making it extremely easy to overhear table conversation, one source with knowledge of the situation told RadarOnline.com.
Sheen's lawyers charged that Walsh works as a prostitute after hitting hard times financially.
The actor's extortion lawsuit against Walsh says she demanded $1 million before contacting the Aspen, Colorado District Attorney and $500,000 before taping Good Morning America.
Article continues below advertisement
Walsh claims Sheen choked her, held her against her will, threw a lamp at her and snorted a white powder during their short, but memorable time together.
Richards stayed at the restaurant only for a short time with Sheen and his entourage.
DOCUMENTS: Read Charlie Sheen's Lawsuit Against Porn Star
Said the source: "But from the second Walsh saw Denise, she wanted to get close to her. She made sure she had her photo taken with her. And she told her all about her life as a prostitute."