Charlie Sheen: I'm Calmer, Clean & Sober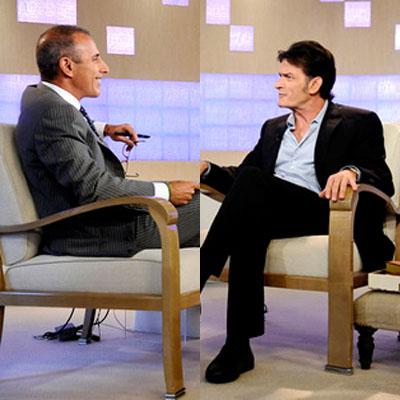 By Adam S. Levy - RadarOnline.com Staff Writer
Meet the calmer, mellower Charlie Sheen.
The actor, who was fired from the most lucrative gig in TV history earlier this year after a public feud with Two and a Half Men creator Chuck Lorre, tells the Today Show's Matt Lauer things have slowed down in his life considerably in the past few months.
"I don't really know what happened" Sheen said, referring to his falling out with Lorre and the unprecedented media blitz that followed. "It was one of those things where the planets were aligned, perfectly or imperfectly.
Article continues below advertisement
"I said some stuff and then it caught such traction globally and instantly that I couldn't really put out the fire ... from one moment to the next, I didn't know what was going to happen -- it was pretty exciting."
Sheen said that while he wouldn't take back his memorable media appearances -- which spawned classic catchphrases such as "Winning!" "Tiger Blood" and "Vatican Assassin" -- he does laugh at some of them, in retrospect.
"I don't know, the Tiger Blood, it was so silly and people took it so seriously and I figured, alright, I'll continue to give the people what they want, you know?"
On a serious note, Sheen said he's "absolutely" sober, adding "it's been awhile" since he used any drugs. Instead, he says, he's filled that void with something far more important: family.
"I'm seeing my kids a lot more, mending fences with ex-wives Denise Richards and Brooke Mueller, just trying to move forward and prioritize what matters," Charlie said. "I think that's where the life is, you know, it's in those quiet moments.
Article continues below advertisement
"It's not the giant TV deal or the big party or the award or whatever, it's the memory of your child's smile at the end of the day that sort of brings that one lonesome tear, you know?"
The Today Show ran a short preview clip of its interview with Sheen on Wednesday and promoted the entire interview will air this Friday.
For more of Charlie, check out his Comedy Central roast September 19 at 10/9c.
RELATED STORIES: