Charlie Sheen & Dad Spoof Apocalypse Now In Ad For Comedy Central Roast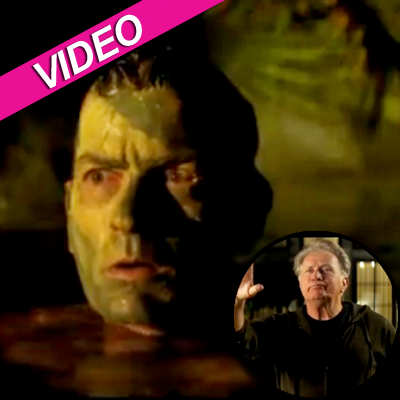 Charlie Sheen and his father Martin Sheen team up in a hysterical new ad for the upcoming Comedy Central roast of the former Two and a Half Men star.
In the ad Charlie, with his face painted camouflage, emerges from a body of water like his dad Martin in the 1979 classic, Apocalypse Now saying, "I was going to worst place in the world -- cable."
At that point, the real Martin Sheen shows up, yelling at Charlie, who's actually in a swimming pool, flanked by two bikini-clad beauties.
Article continues below advertisement
"Charlie! Get inside and wash your face! It's past your bedtime!" Martin yells. "When will this ever end?"
The only other time the father and son shared the stage was on a 2005 episode of Sheen's former show, Two and a Half Men.
Watch the video on RadarOnline.com (Warning: Explicit Language)
We've also got some new clips of the affair, which took place Saturday at Sony Studios in Culver City, California.
"The Roastmaster General" Jeffrey Ross -- dressed in a Moammar Gadhafi get-up -- said Charlie's "the black sheep of a family responsible for three Mighty Ducks movies.
"Martin Sheen and Emilio Estevez said they would have been here tonight, but they had a family obligation!"
Ross said of Sheen's old gig on Two and a Half Men: "Whenever the writers put new lines in the script ... he tried to snort them."
Comedy Central will air the roast September 19 at 10/9c, the same night Two and a Half Men's new season premieres on CBS at 9/8c.