Charlie Sheen Jokes About 'Crack Pipe' At Comedy Central Roast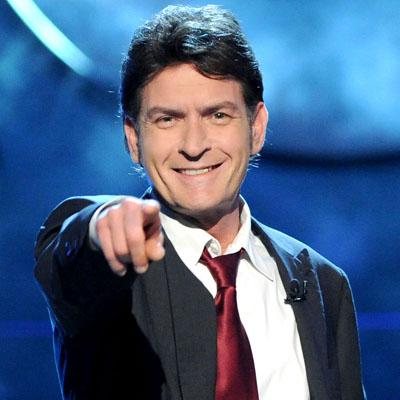 No sleazy stone was left unturned as Charlie Sheen was the center of attention at a Comedy Central roast in his honor this past weekend.
A cast of comedians and stars -- including Grey's Anatomy star Kate Walsh, Guns N' Rose guitarist Slash, boxer Mike Tyson, Star Trek's William Shatner and Jackass star Steve-O -- gathered for the Saturday event at Sony Studios in Culver City, California.
Article continues below advertisement
They took no-holds-barred slams at the actor's hard-partying reputation, including his admitted drug habit, his firing from Two and a Half Men (the highest-paid gig in TV history); and his former living arrangements with the Goddesses (porn star Bree Olson and model Natalie Kenly).
Sheen sat on stage on a huge throne, surrounded by prop missiles. He was introduced by the night's host, Family Guy creator Seth McFarlane, who joked about Sheen's Christmas 2009 arrest, when he allegedly threatened ex-wife Brooke Mueller (who was in attendance) with a knife.
Brooke's "here voluntarily," McFarlane said. "No one put a knife to her throat."
Jon Lovitz zinged the actor's admitted drug use, asking, "How much blow can Charlie Sheen do? Enough to kill two and a half men."
And "The Roastmaster General" Jeffrey Ross lived up to his nickname, incinerating Sheen with a montage of short jokes that went there, and beyond.
Referring to the mixed reviews Sheen received on his My Violent Torpedo of Truth: Defeat is Not an Option tour earlier this year, Ross joked, "Charlie Sheen is to stand-up, is what Larry Flynt is to standing up!"
Article continues below advertisement
Despite the storm of harsh comments, Sheen was a good sport about the humbling evening.
"Wow, what a night. Until tonight, I never realized how f***ed up I was. All this time I thought I was just having fun. The thing is once again, I come out unscathed. You can't hurt me. Hell, I can't even hurt me. Drugs couldn't kill me. Sex couldn't kill me. The press couldn't kill me. Two and a Half Men couldn't kill me. Did you really think your little jokes were going to kill me? I'm done with the winning cause I've already won.