Exclusive
Big Trouble For Ashton Kutcher: Woman He's Accused Of Sleeping With Lawyers Up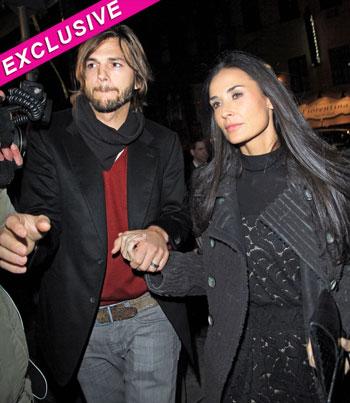 A 23-year-old woman is accusing Ashton Kutcher of cheating on wife Demi Moore after a booze-fueled boys night out at a San Diego nightclub last Friday, RadarOnline.com has learned.
The woman, who RadarOnline.com has chosen not to identify, has lawyered up with a top Hollywood attorney and gone into hiding, multiple friends of the woman have revealed.
One pal said: "She is due to meet with an attorney tonight (Tuesday). She is freaking out."
Article continues below advertisement
Ironically, the allegations of infidelity coincide with the Two and a Half Men star's six-year wedding anniversary with Demi, on September 24. He was out until the early hours of that morning.
"Ashton didn't look like someone who was celebrating a wedding anniversary," one clubgoer told RadarOnline.com.
Kutcher 33, and Moore, 48, have not responded to RadarOnline.com's repeated requests for comment.
The scandal also comes as Star magazine, a sister title of RadarOnline.com, prepares to hit newsstands with a sensational report, revealing the pair's marriage is "officially over" as a result of Kutcher's cheating. The issue is due to hit newsstands on Wednesday.
"Ashton and Demi have separated and the marriage is over," a source close to the pair told Star. "The relationship ended because of Ashton's serial cheating. It's a painful time for Demi."
As Star previously revealed, Kutcher had a sexual fling with Brittney Jones, then 21, who claimed she and Kutcher "made love on the couch" in his living room while the three-times married Moore was filming a movie in Detroit.
Article continues below advertisement
"He's a great lover," Brittney said. "Very considerate and sweet. And it was very special to me. I felt totally comfortable in his arms. It was tender and nice--not some random sex act."
Kutcher ended the relationship during a second meeting, the woman said.
The story about Ashton's latest alleged affair was first broken on TheDirty.com.
RELATED STORIES: